Taylor Duryea is one of a selection of Bulldogs players, along with the miracle-makers of 2016, who have experienced the hype of grand final build-ups and the joy of saluting on the big day.
But he has some advice for the teammates who were not involved in the drought-breaking 2016 flag.
Traded to Whitten Oval from Hawthorn at the end of 2018, Duryea played in back-to-back premierships with the powerhouse Hawks in 2014-15 after being a member of Box Hill's VFL triumph in 2013.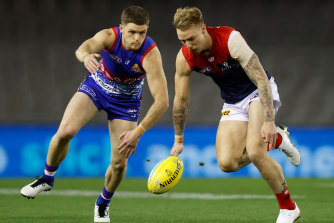 There was some uncertainty whether Duryea would earn another contract after being restricted to three games last year. His pubic synthesis (groin) surgery was compounded by complications with a quadricep rupture, turning a five-month injury into a 12-month layoff.
But he has bounced back with arguably his best season to date – and his message for those premiership-less teammates in the Bulldogs' ranks on how to handle this fortnight is simple.
"My only advice would be to soak it all up," he said.
"You don't know when you're going to get another opportunity, or if you ever will again.
"For the guys who didn't play in '16 or haven't been in a grand final, you can't expect that you'll get there again, even though we'd like to think we've got a long period of sustained success in front of us.
"You've just got to soak it up and enjoy it. Be in the moment, and embrace the week. You don't wish to be anywhere else."