"If we don't build HumeLink, we can build other things," he said.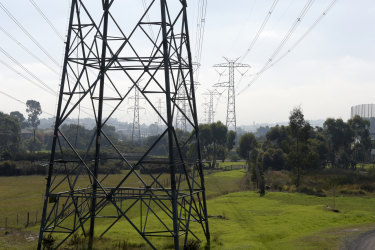 Dylan McConnell, a University of Melbourne energy researcher, said he had been "quietly surprised how little attention the transmission question has received".
The Australian Energy Market Operator (AEMO), for instance, recently released its Transmission Costs report with little of the media attention generated by "big bang" reports such on electricity opportunities, he said.
That oversight might not last as projects such as the VNI-West (previously dubbed KerangLink), the Ballarat-Wagga connection proposed to help Victoria tap into Snowy 2.0, also have had costs blow out. VNI-West's bill has gone from $2.4 billion to $4 billion, Mr McConnell said.
For its part, Snowy Hydro said there was "broad industry consensus" that significant investment would be needed to decarbonise the National Electricity Market (NEM) as coal-fired power plants dropped out.
Loading
Snowy 2.0 will provide 2000 megawatts of generating capacity and 350 gigawatt-hours of storage, with the extra so-called firming capacity supporting construction of an additional four gigawatts of wind and solar farms, a Snowy Hydro spokesman said. Over time, other plants will join the grid.
"Why would Snowy Hydro pay for transmission lines that connect 20,000 megawatts of wind and solar to close to 12 million Australians?" he said, referring to Sydney, Melbourne and Adelaide users.
Federal Energy Minister Angus Taylor was approached for comment. The minister and AEMO have previously identified HumeLink as a priority project.
NSW Energy Minister Matt Kean said HumeLink would "undergo a robust cost-benefit analysis to ensure it delivers benefits for NSW consumers".
Loading
"Additionally, the cost associated with any transmission upgrade will be more than offset by having some of the cheapest forms of electricity generation and storage anywhere on the planet," Mr Kean predicted.
His Victorian counterpart, Lily D'Ambrosio, said the KerangLink cost blowouts were "due to increases in estimates on the NSW side of the project, and these need to be reined in. The Victorian costs have remained largely unchanged at $1.3 billion".
"We will continue to work with the Commonwealth government to progress vital transmission upgrades that unlock renewable energy, but we won't lump Victorian consumers with unnecessary costs to fund the project," Ms D'Ambrosio said. "If the Commonwealth want to deliver KerangLink, which is so critical to their Snowy Hydro 2.0 scheme, they simply have to do more."
Simon Corbell, chief executive of the Clean Energy Investor Group, said it was "critically important that we expedite transmission projects such as HumeLink" as part of wider climate change action.
"Stopping HumeLink will only delay and deny the opportunity for a more rapid decarbonising of the NEM," Mr Corbell said. "That's not something we can forgo."
The Morning Edition newsletter is our guide to the day's most important and interesting stories, analysis and insights. Sign up here.