Thanks for following along.
That was an extraordinary night for Wallabies fans.
It was the best team performance in the Dave Rennie era, but it will be remembered as the night Quade Cooper's comeback hit dizzying heights.
The only thing Australians love more than an underdog is a comeback and the Wallabies treated the public to both tonight.
We'll do it all again on Saturday, when the Wallabies face the Springboks at Suncorp Stadium.
That's the view of our very own Paul Cully, who filed this analysis piece after the Wallabies' thrilling win.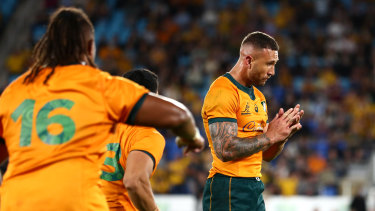 He also applauded referee Luke Pearce, who was exceptional.
Pearce showed that the referee, not the television match official, should be the one in charge. It was very refreshing.
Pre-game, James O'Connor said he would be available for selection for the first time this year.
That leaves Dave Rennie with quite the conundrum. Cooper's man-of-the-match performance will surely see him earn incumbent status, but the Wallabies are big fans of O'Connor.
What it does mean is Noah Lolesio is now clearly Australia's third choice five-eighth.
That's the view of Andrew Kellaway, who spoke to Nine after the upset win.
Incredible.
Absolutely incredible.
From 40 metres out on an angle, the 33-year-old playmaker stepped up and kicked the penalty that won the Wallabies the match.
He was eight from eight off the kicking tee tonight.
It's hard not to feel good for Quade. Wallabies win, 28-26.
The forward pack produced an an enormous shove on a South Africa scrum 40 metres out from their line and when the ball spilled, Nic White was over the breakdown.
He forced a penalty and now, Quade Cooper has a shot at goal to win the match.
A script writer couldn't have come up with this.
RSA 26-25 AUS after 81 minutes