Traditional owners across Australia's Top End are tapping into space-age technology to round up and manage the feral cattle herds which roam across their vast, remote country.
Feral cattle and buffaloes churn up wetlands, destroy native habitat, erode gullies, damage rivers and, on the east of Cape York, send damaging sediment into the waters of the Great Barrier Reef.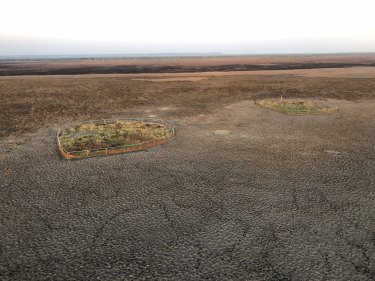 Traditional owners want to know where the herds are and where they will go next, so they can either round them up and sell, or cull them where appropriate, to protect country and cultural sites.
Mimal Land Management Aboriginal Corporation, Cape York Indigenous organisation Aak Puul Ngangtam and Normanby Land management are partnering with CSIRO and Microsoft as well as Darwin and James Cook University to develop new technology.
In a program dubbed Space Cows, feral buffaloes and cattle will be tracked across a 22,000 square kilometre area, taking in the Arafura swamp catchment in Arnhem Land in the Northern Territory, and Upper Normanby and Archer River on Queensland's Cape York peninsula.
The aim is to create a "digital twin of the landscape" using GPS tagged animals, satellite and weather data. Combined with Microsoft's Azure Artificial Intelligence platform.
Animals aren't just tracked across the landscape, traditional owners will be able to see where they will go depending on changes in the climate and weather.
For example, they could get early warning that a herd of buffaloes will hoof it to a particular wetland when the weather is forecast to be hot and dry, enabling traditional owners to round them up or cull them before damage is done to landscape.
CSIRO research scientist Andrew Hoskins said locating feral animals in remote and inaccessible terrain is often the biggest challenge.