As she lapped up the sun during a Sunday walk, Western Bulldogs supporter Eloiza Soluta felt the urge to celebrate the team's grand final berth at her club's home ground.
Ms Soluta started following the Bulldogs in 2005 while studying for her Australian citizenship, and her love for the club has grown over the years, including the unforgettable premiership win in 2016.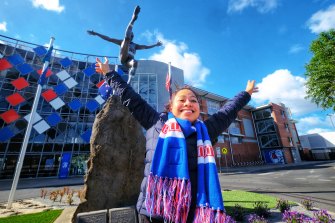 Like thousands of other Bulldogs fans, she watched joyfully from home as the team thumped Port Adelaide by 71 points in Saturday night's preliminary final to book their place in the season decider against Melbourne at Perth's Optus Stadium on September 25.
"I was enjoying the sun and when I saw the ground while I was walking, I just said, 'I need to go and see EJ Whitten and get a photo'," Ms Soluta said.
Bulldogs supporters have been on a wild ride in the finals. The team was sitting among the best sides for much of the season before falling out of the top four in the final two rounds, which meant all three of their finals have been elimination games.
Melbourne's latest COVID-19 lockdown has meant the team has been away from home since August 28 with their elimination final against Essendon in Launceston, their semi-final against the Brisbane Lions in Brisbane before travelling to Perth and flying into Adelaide for the preliminary final.
Ms Soluta said the team's last-minute win over the Lions still stuck in her memory after young Bulldog Laitham Vandermeer knocked the ball through for a behind to give his side a one-point win.
Saturday night's game was far different, with the Bulldogs leading throughout and having the result locked in by half-time, kicking 12 goals to three in the first half.
"Oh, the match with Brisbane was a very exciting one," she said.