The country's largest labour union peak body has called on Treasurer Josh Frydenberg to immediately block the private equity takeover of Commonwealth Bank's superannuation fund after it failed a performance test and was sued for providing false information to members.
Colonial First State (CFS) was one of 13 superannuation funds that failed the Australian Prudential Regulation Authority's (APRA) inaugural performance test this month which ranks MySuper products on investment returns and fees against a tailored benchmark.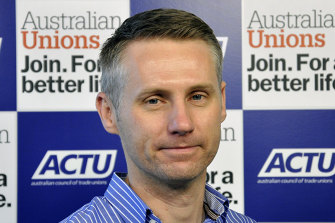 The worst-performing funds, including CFS, must now inform members of the result and seek to improve returns, reduce fees or face a ban on accepting new members. The test is part of the federal government's reform agenda to stamp out dud funds from the $3.3 trillion superannuation sector.
CBA announced last May it had reached a deal to sell 55 per cent of its super fund, Colonial First State (CFS), to KKR for $1.7 billion, which would give the private equity firm controlling ownership of the fund.
The deal is pending approval from the federal government's Foreign Investment Review Board, and the Australian Council of Trade Unions (ACTU) called on Mr Frydenberg to block it in March, highlighting KKR's "aggressive track record" for stripping costs to boost profits.
However, ACTU assistant secretary Scott Connolly said he received no reply and has now sent another letter, obtained by The Age and Sydney Morning Herald, claiming it was "more urgent than ever" for Mr Frydenberg to intervene and block the transaction.
"The Commonwealth Bank's selection of KKR as the sale partner cannot be in members' best financial interest and permitting it would simply be perpetuating the rapacious culture of siphoning workers' hard-earned retirement savings for profit," the letter claims.
"Australian workers' retirement savings are not the playthings of foreign-based private equity pirates and the government should immediately reject the sale of Colonial First State to KKR."
CFS's MySuper products returned on average 22.4 per cent over the 12 months to June and a spokesman said while the group was "obviously disappointed" it had "narrowly missed" passing APRA's performance test, he said changes had been made, including fee reductions to save members $8 million per year starting in October.