But in all earnestness, I'm glad that given the circumstances (which I'm not glad about) another state's capital city gets a turn. Balancing Melburnians' sadness is the excitement and joy of Perthians.
Sixty-thousand of them will get to fill Optus Stadium to see the big showdown live and loud, and it's pretty hard not to be happy for them. When I asked a mate how West Aussies are feeling about hosting the game, he replied simply with, "They're stoked".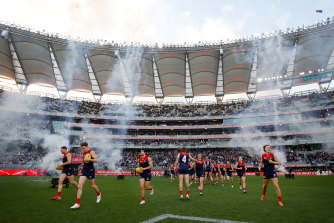 And after all, it is a national league. Why shouldn't more capital cities get a piece of the grand final pie? AFL Media's chief correspondent, Damian Barrett, floated the idea on the AFL Daily podcast that perhaps the grand final should be held in a non-Victorian capital city every five years or so.
It's not the worst idea I've heard. Just like in the AFLW, which has so far had grand finals in Adelaide, the Gold Coast and Melbourne, it would spread the joy, excitement, adrenaline and fanfare further across the nation – and hey, might even pick up a few more followers along the way.
Plus, it would mean having AFLM finals at the 'G would be even more special for those in Victoria.
Last year, The Gabba showed it's up to the task of hosting the decider and if the game in Perth proves a success, it makes for a pretty compelling case to share the grand final.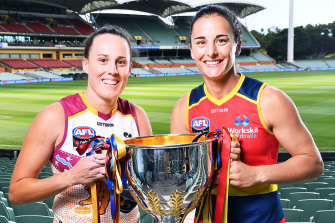 Yes, the current deal with the Victorian government to have the grand final at the MCG until 2057 would have to be reworked. But hey, COVID is proving nothing is truly certain.
As for me this year? Well, I'll be plonking myself on the couch in front of the TV, sharing a homemade platter and plenty of cans of beer with my housemate as we cheer on the Dees (although we won't be too upset to see Bont and Bailey with medals around their necks either).
Loading
We'll also overcook some chips and either under or oversalt them, then cover them in a huge splattering of tomato sauce, to pay tribute to how they do 'em at the 'G.
Marnie Vinall is a freelance writer based in Melbourne.