Good evening and thank you for reading our live coverage of the day's events. If you missed the updates throughout the day, here's what you need to know: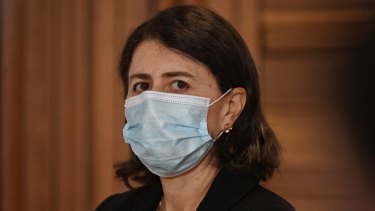 This is Cassandra Morgan signing off on the blog for this evening. Michaela Whitbourn will be back with you tomorrow morning.
Crown is planning a 'no jab, no entry' policy for visitors and compulsory COVID vaccination for its staff, according to reports.
Crown Resorts chief executive Steve McCann said consultations with the federal government and its workforce were underway for a new vaccination policy that would cover its three casinos in Melbourne, Sydney and Perth, The West Australian reports.
"Anyone working at or visiting our sites will need to be vaccinated," McCann told the publication.
Other big companies such as Qantas, Telstra and Virgin Australia have vowed to bring in mandatory vaccination for all staff, with frontline workers to be fully vaccinated by mid-November.
Crown Melbourne and Crown Sydney are currently closed because of lockdown restrictions. The company gave no indication of when it would look to introduce its vaccination policy.
The findings of a Royal Commission into Crown's Melbourne operations are due to be handed down next month.
Good evening and thank you for reading our live coverage of the day's events. If you missed the updates throughout the day, here's what you need to know: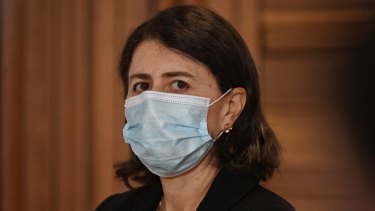 This is Cassandra Morgan signing off on the blog for this evening. Michaela Whitbourn will be back with you tomorrow morning.
Victorian health authorities added a Harvey Norman store in Broadmeadows as a tier-1 exposure site on Monday evening along with several train journeys that were listed as tier-2 sites.
A person with COVID-19 was at the Pascoe Vale Road Harvey Norman outlet between 9am and 4.30pm last Tuesday and anyone who was at the store during that time needs to get tested and quarantine regardless of the result.
Meanwhile, train journeys from last Monday and Tuesday on the Cranbourne and Pakenham lines haves also been added as tier-2 exposures.
Full details of the trips affected can be viewed here.
Anyone who took the train at the same time needs to isolate until they return a negative COVID-19 test.
Premier Mark McGowan will require West Australians to prove they are vaccinated to attend big events and fly interstate and intrastate as early as the end of the year.
"My view is that what will occur towards the end of this year and early next year is you'll need a vaccine passport to do certain things," Mr McGowan said.
"So it might be flying overseas and might be flying interstate, it may well be going to the football. And we're working out the details of that. But that's what all states are doing."
Mr McGowan visited the town of Albany on Monday, located on the southern coast of Western Australia.
In Albany, the rate of first dose vaccination is now 81 per cent, with 57 per cent of the eligible community fully vaccinated.
Vaccinations for 12 to 15-year-olds opened in Western Australia on Monday, with the state government pushing for students aiming to take Year 12 exams to get vaccinated.
Mr McGowan said he just wanted people to take the initiative and do it.
"You're helping your own health, your family's health, you're helping your community's health – you are doing the right thing by the state and the country."
Sydney veterinary nurse Lauren Rigby had "perfect milky white smooth skin" until she started using sanitiser to frequently wash her hands, and limit the spread of COVID-19.
What started as a rash on Ms Rigby's hands spread. Sitting on a park bench or touching clothes or merchandise sprayed with disinfectant to kill COVID-19 made her body burn.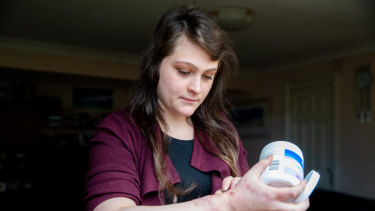 "It started on my hands, progressed up my arms, my torso and my legs. One day, [eczema] spread all over my face, and I had a panic attack. I didn't know what was going on," the 22-year-old said.
Her skin fell off. "I could literally sweep up plates of my skin. It was horrible," she said.
Then she lost her hair. She was repeatedly hospitalised, and nearly died this year from a condition called erythroderma, triggered by her atopic dermatitis (eczema) that covered 95 per cent of her body.
Ms Rigby shared her story as part of a campaign called #THISISECZEMA to highlight the prevalence of the eczema, which affects 20 per cent of children and 10 per cent of adults.
A leading infectious diseases expert has suggested that businesses be subject to a star rating system based on the vaccination rates of staff and other COVID-19 safety practices so that consumers can have the confidence to enter premises once lockdowns end.
Professor Raina MacIntyre, who is head of the biosecurity program at the Kirby Institute, UNSW, told the audience at a virtual event for the Committee of Economic Development Australia on Monday that businesses would have to show they have COVID safety front of mind if they want to reopen.
"I was talking to a certain Lord Mayor recently and suggesting they do a pilot program of a star rating program for businesses, where you award a star rating based on vaccination rate of staff and ventilation," Professor MacIntyre said.
"In some European nations they have mandated that restaurants and premises have a carbon dioxide monitor at the front door so that a client or patron can have a look and decide for themselves if they want to go into an unsafe environment.
"That's what we need to be doing — if business wants to open, let's all do that, let's start putting in systems."
Almost half the people who had been counted in Victoria's Indigenous vaccination rate were incorrectly identified as Aboriginal or Torres Strait Islander.
A number of regional GPs unwittingly incorrectly identified that many people who had received a COVID-19 jab were Indigenous.
The federal government released data last week that stated 48,000 First Nations Victorians had received at least one dose, and 31,000 were fully vaccinated. That number has been revised down to 21,559 and 12,200, respectively.
The Victorian Department of Health believes the anomaly was due to a software program used by some GPs to upload immunisation data to the Australian Immunisation Register. The company, which the department did not identify, has updated its software to rectify the problem.
A federal health department spokesman said the total number of vaccinations delivered in Victoria was accurate. "This correction was only limited to a person's Indigenous status."
Victoria had been the nation's indigenous vaccination success story. The rate of fully vaccinated people (43%) was believed to be almost double that of the entire Victorian population (26%) and way in front of NSW's indigenous population (less than 11%) and WA (6%).
Victorian Aboriginal Health Service chief executive Michael Graham said his staff had for weeks suspected the original vaccination figures were not right.
He said he hoped the revised figures would make authorities realise they needed to do more to get Victoria's Aboriginal populations vaccinated.
"Because our data looks so good across the state, I think people have gone, 'Yeah, we don't need to worry about Victoria because they're doing so well'," he said. "Well, now you can see, we're not that much different than the rest of the country."
About a third of residents at a Waterloo aged care home for vulnerable men in inner Sydney have tested positive to COVID-19, as concern grows about the virus spreading in the inner city.
A St Vincent de Paul NSW spokesperson confirmed 18 men at its Frederic House facility at Waterloo had tested positive by Monday, following an exposure last week. Two staff members have also tested positive.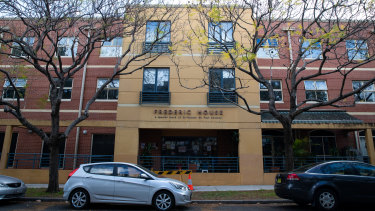 Frederic House is an aged care service which provides long-term accommodation for approximately 60 men who are at risk of homelessness.
"The residents are mainly older men, who are experiencing homelessness, relying on low pensions and are unable to live independently due to their medical and support needs," information on the St Vincent de Paul website reads.
Victoria is on track to reach 70 per cent of its population aged 16 and above having received their first vaccine dose on Friday, almost one week earlier than the state government's original estimate.
The pace of the vaccine rollout has increased in Victoria over the past few weeks, and over the past week about 47,000 people a day on average have received their first dose.
It means the state will likely reach its 70 per cent target on September 17. Back when Victorian Premier Daniel Andrews announced the target on September 1, the state was on track to reach 70 per cent first doses on September 23.
By the end of yesterday, 66.82 per cent of the state's 16+ population had received one vaccine dose, while 40.95 per cent were fully vaccinated.
When the 70 per cent first dose target is met, the five-kilometre movement limit will be extended to 10 kilometres and an extra hour of exercise will be permitted each day.
Parents rushing to vaccinate their children in time for their return to school next month have found that getting an appointment can be very hit-and-miss.
The federal government has approved the COVID-19 Pfizer vaccine for children aged between 12 and 15 from Monday.
It has resulted in many families scrambling to organise their children to get a shot ahead of a staggered return to schools for term four in NSW from October 25.
Carol Seguna, from Mascot in Sydney's inner south, is among them. She called more than a dozen doctors on Friday for an appointment to vaccinate her 15-year-old son Julian, but she was told she could only make an appointment online. When she tried, her son's age group was "ineligible".