Egregiously, most of the biographical information on Palmer's website about the political statesman came straight from Wikipedia. Stay classy, guys.
COURT DATE
Speaking of Craig Kelly, the former Liberal's adviser Frank Zumbo is scheduled to appear in Sydney's Sutherland Court on Tuesday after being charged with historical sexual offences to which he has pleaded not guilty. Zumbo, Kelly's long-time office manager and often referred to as the MP's "right hand man", was granted bail in June after being charged over allegations he sexually touched and indecently assaulted three women in their 20s, and a teenage girl on multiple occasions during a six-year period. He has denied the claims and says he will defend the matter. His legal team is expected to demand more papers from the Department of Public Prosecutions, which they say is yet to hand over to the politico crucial documents that have been mentioned in the brief but not yet served. "Our client's position remains unchanged, and today the court will be asked to make further brief orders," National Criminal Lawyers principal solicitor Michael Moussa said.
LUXURY FIRE SALE
Luxury furniture collectors from Britain, France, Zurich, Canada and the US Zoomed in on South Yarra auction house Leonard Joel on Monday night as beleaguered businessman Daniel Grollo flogged his dazzling collection of Hermes furniture, hoping for a million-dollar payday.
The travails of Grollo's Grocon construction empire, which collapsed owing about $104 million, have been well documented. In May Grollo avoided the humiliation of Grocon being liquidated after the tax office and creditors voted to accept an arrangement to pay back millions. Also, former wife Katherina Grollo had made multiple claims including a 658 square metre penthouse on the 80th floor of Grocon's Eureka Towers.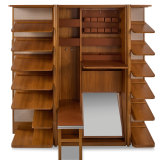 Grollo is now pinning his hopes on winning a NSW court battle where he is suing Infrastructure NSW over planning changes close to Grocon's site at Central Barangaroo. That case returns to court on Friday.
Hence Grollo's desire to sell a few assets at his Hermes Interiors auction at Leonard Joel. Here at CBD we are mad for Lot 16, the Philippe Nigro Groom Valet for Hermès Maison Collection, complete with taurillon leather-clad revolving mirror and a jewellery compartment in ebonised walnut wood. "This piece provides practical organisation for everyday use," according to the auctioneers, if a $36,000 coat rack fits your definition of practical. Bidding opened on Monday night at $24,000 and sold for $31,000. "It's an absolute pleasure to be offering this collection this evening. Every piece a beauty," the auctioneer enthused.
But the piece de resistance was Lot 60, a Le Coffre a chaussures cabinet for Hermès Maison Collection. Or in more proletarian language, a made-to-order shoe cabinet.
The cabinet – hand-crafted in Canaletto walnut Essentiel bull calf leather and complete with drop-down seat and foot mirror, leather shelves and shoe compartments with hand-stitched branding – had a guide price of $400,000-$500,000. Bidding opened at $320,000 and quickly shot up to $380,000. But, alas, that price did not make reserve and Lot 60 was passed in.
Grollo bought the 62-piece collection for a personal project that was never completed: The furniture has never been used. Oh, these rich listers and their whims!