Qantas says it will cancel plans to launch a new service from Cairns to Tokyo after the competition watchdog blocked its proposed alliance with Japan Airlines over concerns it would create a near monopoly on flights between the two countries.
The Australian Competition and Consumer Commission (ACCC) on Monday rejected an application from the two airlines to coordinate flights pricing, schedules, sales and tourism marketing because it would hamper competitors such as Virgin Australia and result in higher airfares.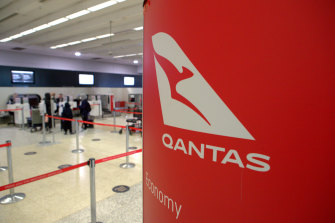 Qantas, its budget arm Jetstar and Japan Airlines (JAL) carried about 85 per cent of passenger traffic between the two countries before the pandemic. They were the closest competitors on the Sydney-Tokyo route and the only airlines on the Melbourne to Tokyo route.
ACCC chairman Rod Sims said the tie-up would create a "near monopoly" on air travel between Australia and Japan, which outweighed the benefits of the alliance helping to quickly reinstate travel when borders reopen.
Loading
"It would mean higher prices than otherwise; it would mean reduced service, as you always get when you head towards monopoly," he said. "It was too much competitive harm."
The alliance would also make it harder for other airlines trying to compete or launch new services onto the route. Virgin had intended to start flying to Japan before the pandemic pushed it into administration.
Qantas said it was disappointed with the decision to reject the alliance, which it said would have delivered more routes, better flight connections and greater benefits for frequent flyers.
"This is particularly unfortunate for Queensland and Cairns, which would have benefited from a direct Qantas route to Tokyo that would have seen a lot of travellers wanting a premium experience," Qantas domestic and international CEO Andrew David said.