The proposed $23.6 billion takeover of Sydney Airport will face close scrutiny from the competition watchdog, with airlines raising concerns about common ownership across Australia's major airports.
Sydney Airport said on Monday it would open its books to a bid from a superannuation fund-led consortium, and that it intended to recommend shareholders accept its $8.75 per share cash offer if the consortium produces a binding takeover proposal.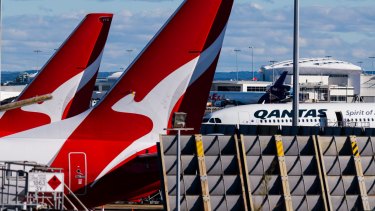 The Sydney Airport Alliance consortium — made up of the super-fund backed IFM Investors, AustralianSuper, QSuper and the New York-based Global Infrastructure Partners — first approached Australia's only listed airport in June offering $8.25 per share. It raised that offer to $8.45 in August, and then to $8.75 over the weekend.
Sydney Airport's David Gonski-led board rejected the earlier offers as "opportunistic" as the gateway continues to be battered by the COVID-19 pandemic. Passenger traffic fell to just 2.5 per cent of pre-pandemic levels in July.
The cash deal — worth $31.2 billion including debt — will be one of the largest takeovers in Australian corporate history if it goes ahead. But the takeover will face a public review by the Australian Competition and Consumer Commission (ACCC) to consider whether IFM and its super fund partners controlling a large stake in all of the country's major airports could harm airlines and consumers.
IFM already owns 25 per cent of Melbourne Airport, 20 per cent of Brisbane Airport, 13 per cent of Adelaide Airport and 77 per cent of Darwin Airport. Australian Super owns 10 per cent of Perth Airport, while QSuper owns a stake in Brisbane Airport through the QIC, which controls 25 per cent.
Graeme Samuel, a former ACCC chair who is now chairman of the lobby group Airlines for Australia and New Zealand, said carriers were concerned it would become even harder to bargain over landing fees and other charges if Sydney Airport was bought by the IFM-backed group.
"This just exacerbates the problem by creating, if you like, almost a nationwide monopoly in terms of the airports themselves," he said.
"It becomes very difficult to play one off against another." Professor Samuel said his group would raise its concerns with the ACCC.