Western Bulldogs star Adam Treloar has revealed he dealt with a "really challenging" week leading into last Saturday's preliminary final against Port Adelaide but now finds himself in a better mental space.
In a week when his poor form and body language had been critiqued by a handful of former players turned commentators after he had a season-low 10 possessions, including two kicks, in the semi-final win over the Brisbane Lions, Treloar said life in a hub and on the road had started to take a toll.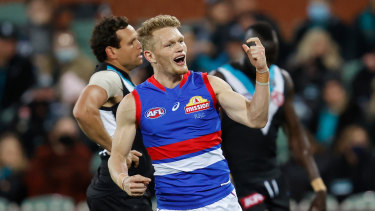 "It was, obviously, a really challenging week for me personally. It was quite challenging to be honest. The one thing I do love about the footy club, and being a part of a footy club, is the backing you get not just from the coaches but the players and supporters. And the love and care I got from so many people in my circle, and all they care about is me the person not the footy player," Treloar said on Monday.
"It really put me in a good headspace going into the game … for me, it was just getting back to the basics and getting back out there and really enjoying being out there.
Loading
"It's been sometimes, as I said before, a challenge being away from family and your loved ones."
Treloar, 28, is married to netballer Kim Ravaillion and the couple have a young daughter, Georgie. Treloar has spoken in the past of his private battle with anxiety.
The Bulldogs have endured unprecedented travel through this finals series, having left Melbourne and spent time in Tasmania, Brisbane, Adelaide and Perth in strict quarantine.
Treloar lacked his typical zest in the contest against the Lions, and there were claims he was upset over not being used at centre bounces as much as he had been earlier in the season.