Good evening, and thank you for following our live coverage of the day's events. In case you've just joined us, here's a recap of what you've missed: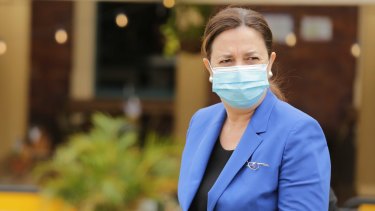 This is Cassandra Morgan signing off for the blog. Thanks again for joining us today. Michaela Whitbourn will be back with you tomorrow morning for more live coverage.
A childcare centre in Melbourne's southwest and the offices of disability support group in the east of the city have been added as tier-1 exposure sites.
The Newport Gardens Early Years Centre on Maddox Road in Newport has been added for two exposures on September 6: between 8.30am and 10am and between 3.15pm and 4pm.
The office of AQA Qualcare on Heidelberg Road in Fairfield has also been listed for an exposure that took place between 8.05am and 4.05pm on September 3.
Anyone who was at either of these locations at the specified times needs to get tested for COVID-19 and isolate for 14 days regardless of the result.
Two apartment complexes were also added as tier-2 locations on Tuesday evening.
A bayside apartment building on Esplanade East in Port Melbourne was listed as an exposure site for an eight-day period to Tuesday.
While another set of units on Alma Road in St Kilda East has been listed for a five-day period through to Tuesday.
Anyone who attended these apartment buildings during that time needs to isolate until they test negative for COVID-19.
You can view the details of the more than 1000 Victorian exposure sites at the Victorian government's website
Federal Health Minister Greg Hunt has asked the country's medical regulator to urgently consider the widespread use of rapid antigen testing in workplaces and for home use as the federal government presses ahead with plans to allow Australians to travel overseas by the end of the year.
Rapid antigen testing is used in many contexts overseas including in the US and Britain as a way of monitoring COVID-19 cases but has not yet been broadly deployed as a weapon against the virus in Australia.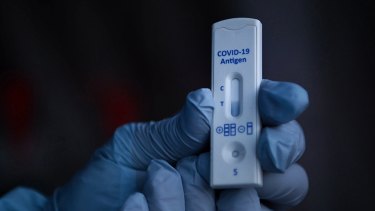 Chief Nursing and Midwifery Officer Alison McMillan advised people to get ready for mobile phone apps that would trace their location, a necessary device, she said, if the country embraced home quarantine.
Mr Hunt said introducing home-based testing and quarantine, as well as the digital vaccination certificate and a new digital border pass, would bring Australians closer to overseas travel.
Victorian health authorities have identified a number of new COVID-19 exposure sites, including a primary school in Melbourne's north.
Oscar Romero Catholic Primary School at Craigieburn was listed as a tier-1 site on Thursday, September 9 between 8.30am and 3.45pm, as well as on Friday, September 10 between 8.30am and 3pm.
Another new addition to the state's tier-1 sites on Tuesday evening was Modern Showers and Wardrobes at Campbellfield in Melbourne's north, which was listed as a close contact site on Wednesday, September 8 and Friday, September 9 between 10am and 3.30pm.
Anyone who attended those sites during the specified timeframes has to immediately get tested for COVID-19 and quarantine for 14 days from the exposure, regardless of whether they receive a negative test result.
The remainder of Tuesday evening's new sites were tier 2.
They included Coles supermarkets at Ocean Grove on the Bellarine Peninsula, at Waurn Ponds Shopping Centre in Geelong, and at Torquay, south of Geelong. Authorities warned that some people who attended each of the supermarkets would be classified as tier 1 contacts.
A full list of Victorian exposure sites can be found here.
Despite the stark differences in landscape and weather, the synergies between Scandinavian culture and Australian culture are many.
From our love of Scandinavian furniture design and hygge home decorating to similarities in our quality of life, Australians are fond of looking to our friends in the north for inspiration.
Iceland recently conducted trials of a four-day working week where workers kept the same salary and worked normal hours but got a three-day weekend and found not only were workers happier but firms reported increased productivity.
As Australia looks towards a post-COVID life and begins to imagine how we might want to juggle returning to the office after spending so long indoors, is a four-day week the way of the future?
Today on Please Explain, senior economics writer Jessica Irvine joins Nathanael Cooper to look at whether it is possible.
You can listen to the podcast below.
A 46-year-old Victorian man has died with COVID-19, according to the Australian Services Union.
The union issued a statement on Tuesday saying Martin "Marty" Blight – a father, "friend to many", keen fisherman, long-term employee of Serco Mill Park, and a committed member of the union – died in hospital on Monday.
The union said Mr Blight became unwell with coronavirus after his workplace was identified as a tier-1 site, and he was subsequently identified as a close contact.
"We know Marty's death will be very hard for many of his family, friends, and colleagues to process," the union said in the statement.
"The union has been speaking with Marty's family directly and both the ASU and Marty's family would like to take this opportunity to encourage everyone to get vaccinated as soon as possible so that no one else has to go through the trauma of losing someone to COVID-19."
The union said it understood Mr Blight's death would be reported by the Victorian government during its COVID-19 briefing on Wednesday.
Authorities announced on Tuesday another two COVID-19 deaths: a Craigieburn man in his 20s, who died at home and was diagnosed with COVID-19 post-mortem, and a St Albans woman in her 80s, who died in hospital.
A call to reopen swimming pools in Sydney's 12 COVID-19 hotspot local government areas was a key point raised by mayors from those regions who finally secured meetings with NSW Premier Gladys Berejiklian on Tuesday morning.
The curfew, which multiple mayors deemed ineffective, over-policing, vaccination permits for essential workers, and the strained mental health of residents of western and south-western Sydney were common themes raised by community leaders dealing with heightened restrictions in recent months.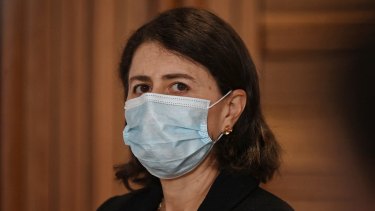 Fairfield Council mayor Frank Carbone said the meeting he was involved in was constructive and he appreciated the Premier taking her time to meet him and other mayors as they stressed their residents should be treated no differently to those in the eastern suburbs.
"If it's OK to get fresh air in Bondi, it's OK to get fresh air out here," Cr Carbone said after the meeting. He said Ms Berejiklian had agreed to get health advice about reopening swimming pools in those council areas after scenes of crowds at eastern beaches over the weekend.
The Premier's office has been contacted for comment regarding this.
But Cumberland mayor Steve Christou said that while he was pleased to get a meeting with the Premier, "I am most concerned that this was a PR stunt and just paying us lip service".
"She continues to hide behind the health advice and could not offer any solutions or concessions to afford our residents the same opportunities as those in the east and other areas," Cr Christou said.
"The Premier claims police assured her they are policing everybody fairly. That point is debatable."
Prime Minister Scott Morrison has foreshadowed reopening of borders when vaccination rates hit 80 per cent but the hopes of scores of Australians trying to get home before Christmas have been shattered by the cancellation of a slew of Singapore Airlines flights scheduled over the next three months.
The airline delivered the bad news to passengers on Monday night as international flights set for the final three months of the year were called off.
It has been a pattern throughout the coronavirus pandemic due to strict international arrival caps in Australia, but the latest cancellations from regional hub Singapore itself and other destinations delivered an additional blow just as the federal government had begun talking up reopening.
In other news, though, Air Canada announced it would restart its first Australian route with mandatory vaccination.
The airline will fly Sydney-Vancouver four times a week, with the first flight to Vancouver taking off on December 17.
Before the outbreak of COVID-19, Air Canada had regular non-stop flights from Sydney, Melbourne and Brisbane to Vancouver. Air Canada suspended its flights to Australia in April last year.
Federal vaccination teams will be sent to aged care homes to offer jabs to the remaining 24,000 unvaccinated workers in the sector by the end of the week before state and territory jab mandates come into effect on Friday.
Days out from the deadline, a small number of nursing homes – mostly in regional areas – are still reporting more than half their staff have not received at least one jab as required by public-health orders designed to safeguard elderly residents.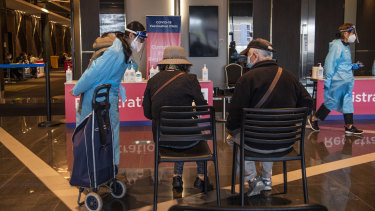 Unions and industry groups are looking to the federal government, which is confident few facilities will need help, to provide back-up workers if existing staff have to take leave or resign because they are unvaccinated when the public-health orders come into force.
But those orders give nursing home operators some leeway.
Victorians on Sunday will learn details of the state's road map to reopening, Premier Daniel Andrews has announced.
The plan will be underpinned by modelling from the Burnet Institute, which is working with the state's public-health team to determine which rules can safely be eased when vaccine targets are reached without rising a spike in cases that overruns hospitals.
"I'll have more to say about schools, more to say about social gatherings, more to say about the economy and all of its different sectors. All of that will be out there on Sunday," Mr Andrews said.
"I'm not necessarily promising that everything will be open when people want it to be open."
The government committed weeks ago to increasing the travel limit from five kilometres to 10 kilometres and the exercise time limit from two to three hours when the 70 per cent first dose target was hit.
This was forecast at the time to be reached on September 23, but rapid vaccine uptake means it may be reached by Friday.
Mr Andrews said the government had not decided whether the "modest" easings would start the same day the state reached 70 per cent, or if the changes would be delayed a day or two to coincide with the broader road map announcement.
"That may be Friday, or we may do the whole lot in one hit, but that may not be until Sunday at this stage," he said.