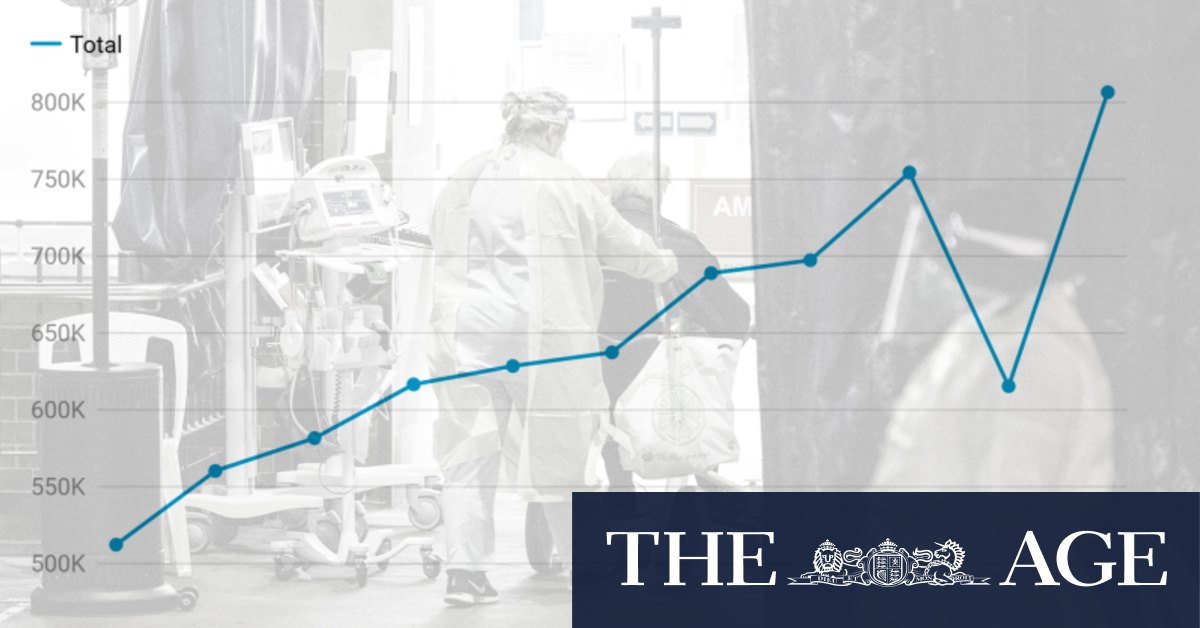 Meanwhile, ambulances notched up the highest number of responses for any quarter in a decade: from April to June this year paramedics recorded 329,709 responses, including 8367 for 'priority 1A' cases or those patients with life-threatening conditions.
About one-third of ambulances did not arrive at the most critically urgent cases within the recommended 10-minute window. Fewer than half of ambulances arrived in 15 minutes to 'emergency – priority 1' calls (47.9 per cent), while 55.6 per cent of 'urgent – priority 2' cases were
reached within 30 minutes.
"The blowout in ambulance response times is absolutely staggering as we confront the furious heat of the worst health crisis NSW has faced," Health Services Union NSW secretary Gerard Hayes said. "Even after that passes, the pent-up demand of people returning to pubs, restaurants and sporting fixtures mean there will be no let-up for our paramedics and hospital workers over the summer."
As demand skyrocketed for urgent care, there were 64,599 elective surgeries performed, the highest for any April to June quarter on record. Private hospitals took on thousands of elective surgeries after they were postponed in the first wave, with 5011 performed during that quarter. During the current Delta outbreak, the private system was largely being used to manage the overflow of coronavirus cases.
More than 500,000 patients were admitted to NSW hospitals, including about 475,000 for acute care, the highest number of admitted patients recorded at any time in a decade.
BHI Chief Executive Dr Diane Watson said the results showed demand for healthcare services from April to June 2021 rose above pre-pandemic levels across many key measures.
"Hospitals continued their focus on boosting elective surgery levels following the suspension of some services for a time in 2020, and this resulted in better on-time performance and reduced waiting lists in April to June 2021," Dr Watson said.
There were 85,296 people on the waiting list for elective surgery at the end of the quarter, down from 101,024 at the same time last year but still at record levels when comparing the same quarter in the past five years.
Loading
The hospitals that have borne the brunt of COVID-19 cases since June reported record attendances and wait times: at Westmead, Nepean, Blacktown and Liverpool hospitals fewer than half of patients left emergency within four hours. At Westmead and Blacktown only about a third of patients started treatment in the clinically recommended time, down from about 67 per cent and 80 per cent at the same time in 2020.
NSW Health Deputy Secretary of Patient Experience and System Performance Wayne Jones said the figures for April to June were not "unexpected and confirm what NSW Health has been discussing publicly since early last year – the significant pressures associated with preparing for and responding to the COVID-19 pandemic."
"The April-June 2021 reporting period demonstrates the resilience of the NSW Health system and, in particular, our extraordinary staff," Mr Jones said.
"In this period, the system bounced back from the impacts of the first wave of COVID-19 and, in particular, the national halt of elective surgery in 2020," Mr Jones said.
But Dr McMullen said an ageing and growing population and rising healthcare costs means a more "significant investment in healthcare is needed."
"We will need crisis funding and surge planning for the next few months, but as we reopen Sydney we need a plan for the hospital system. We don't yet have a plan for the fact COVID-19 will be in the community, and we will get all these patients back that need other treatment."
Stay across the most crucial developments related to the pandemic with the Coronavirus Update. Sign up to receive the weekly newsletter.