"We're allowed to move our volunteers from those [12] LGAs when there's an emergency. But we'll try to avoid moving [any of them], and bringing volunteers from regional areas as a first line of support."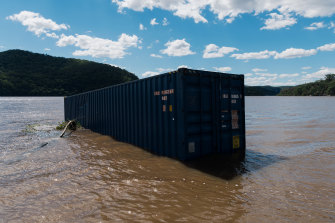 Volunteers, meanwhile, have been encouraged to get vaccinated, with a couple of centres set up for emergency workers.
"We've had hardly any scares within our units," Ms York said. "We've only had to do a couple of deep cleans at a couple of units … We've been lucky."
The SES will also conduct risk assessments to determine which, if any, roles will require staff to be vaccinated, Ms York said. The agency is working with the Rural Fire Service, which has a similar dependence on volunteers, to coordinate COVID-19 procedures.
In the next few weeks, the focus is likely to be in areas such as west of the Blue Mountains, where the Lachlan River has recently been flooding. The Riverina and the Snowy regions are also being watched.
Loading
"We are operational in those areas at the moment," Ms York said, adding "the saturation of the ground and the fullness of the dams" means flood risks will be elevated with even modest rainfall tallies.
By contrast, dam levels were much lower ahead of heavy rains last March. "We've already started reaching out to other emergency service agencies, local councils just for planning and preparation," Ms York said.
While tropical cyclones don't reach as far south as NSW, remnants from the tempests can create heavy rain over parts of the state. Deluges in southern Queensland can also fill inland rivers that flow into the state.
"From preparing an emergency evacuation kit, making sure your gutters and down pipers are clear, to planning for your animals, you can find all this information and more via ses.nsw.gov.au," Ms York said.