Nobody sits on the fence when it comes to Tim Smith. He's either a brilliant political brawler or an arrogant Trumpian fool.
But should he be Victoria's Attorney-General?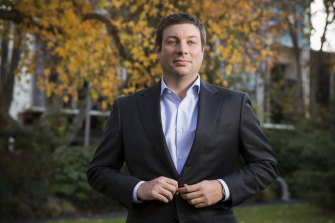 He's in line to be if Matthew Guy wins the next election. The trouble is that Smith isn't a lawyer.
It's a real issue because although we accept that the Minister for Health doesn't need to be a doctor, the Attorney-General holds a vital role in our democracy.
The Attorney-General is a part of the government and yet independent of it. If a conflict arises, they must put the rule of law and the administration of justice first, above political considerations.
In that context a calm legal independent aloofness is needed because the rule of law is what keeps any democracy from sliding into an authoritarian state.
Our system of government is based on the understanding that all political power is subject to the law. The alternative would see every aspect of life decided by the will or the whim of an individual or a political party. (Think back to 2020 when Donald Trump wanted to use his Attorney-General to help spread the lie that he had won the election.)
The Attorney-General's role, then, calls for a sharp legal mind. So it's no surprise the three most brilliant (federal) attorneys-general of the last 50 years were all not just lawyers, but QCs, before they went into politics: Tom Hughes, Lionel Murphy and Bob Ellicott, who resigned on principle in 1977 rather than give into political pressure from PM Malcolm Fraser.