Morrison's rationale was not that the trouble-plagued French shipbuilder Naval Group would fail to deliver on time or on budget but that the growing threat from China meant the program needed the added heft of the US military.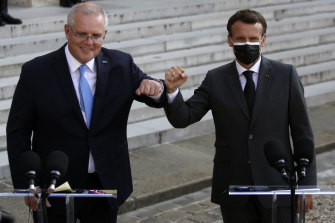 The Australian Prime Minister told Macron at that Elysee Palace meeting, and in the days after, that Australia was considering its options. But he did not tell Macron about the plan being developed in secret with the US and UK.
For reasons yet to be explained, Morrison and Macron did not speak over the phone this week despite the momentous news. And in a joint televised address with Biden and Johnson, Morrison did not once mention France. It fell to Biden to insist France was still a key ally in the region.
"We've been reckless and callous with a very sensitive power who was getting closer to us," says one senior figure involved in the Australia-France relationship. "This will hurt us. We will be cut-price in Europe."
The problem for Morrison is that he has dudded Macron just as the President takes over from retiring German Chancellor Angela Merkel as the de-facto leader of Europe. Australia hasn't just picked a fight with France but also the European Union. The relationship was already rocky after the EU blocked the shipment of millions of AstraZeneca vaccine doses to Australia earlier this year.
Loading
How will France respond? The first step might be to reassess the extent of its involvement in the Indo-Pacific. Observers believe Thursday's announcement will also imperil negotiations for a free-trade agreement between Australia and the EU, a high-income market of almost 450 million people with a GDP of around $US15 trillion ($20 trillion).
"Everyone in Paris is shell shocked," says Benjamin Haddad, the director of the Atlantic Council's Europe Centre. Haddad predicted the announcement represented the lowest point in US-France relations since 2003, when Paris openly criticised Washington for invading Iraq.
Gérard Araud, a former French ambassador to the US, put it this way: "The world is a jungle. France has just been reminded of this bitter truth by the way the US and the UK have stabbed her in the back in Australia."
All sides are calculating that the long-term benefits of closer defence ties between Australia, the UK and US outweigh the medium-term damage inflicted on their relationship with France.
But Macron is going nowhere in a hurry. And he will have a very long memory.
Get a note direct from our foreign correspondents on what's making headlines around the world. Sign up for the weekly What in the World newsletter here.