"I still unashamedly have a real passion for coaching and developing people, and I didn't think I'd miss it as much as I have over the past two years.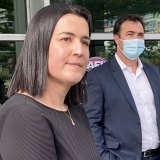 "But at the same time, I came to the AFL for a reason – to broaden my horizons and to learn more about the whole eco-system and the AFL community as a whole, and working at AFL Victoria has opened my eyes to the sheer breadth of our game and how it impacts people.
"I've been really fortunate to be involved at the elite end of the game for a long period of time, but there's a whole football eco-system underneath that in community, which impacts the vast majority of Australia.
Scott became the head of AFL Victoria in a league restructure last year that directly affected more than 20 per cent of staff.
Previously, he took North Melbourne to consecutive preliminary finals in 2014 and 2015 before he and the club parted ways in 2019.
Loading
Kane, who is highly regarded by AFL clubs, said challenges would include maintaining high vaccination rates, through to "logistical complexities like border closures".
"I think the first thing to note is that it's an extremely good result to be playing for a premiership," she said, pleased that the grand final can be held in front of a crowd in Perth.
"I think the travel and the lockdowns still are the biggest challenges.
"We also want to see fans at our games, we want people in the stands and it was a relatively lonely place not having them last year and for much of this year."
North Melbourne is known to have a high vaccination rate among its staff and playing group, and Kane said she expected that would be reflected across the broader men's and women's competitions.
"I think the competition understands the positive impact our game has on people at home and I think it's not lost on us that we've been able to continue working, continue training, continue our jobs every day to really make people happy," she said.
"I think, to that end, people understand the responsibilities they have to encourage vaccinations, get vaccinated, and hopefully keep the show going on."
AFL chief executive Gillon McLachlan said he was proud of the restructure to the football department.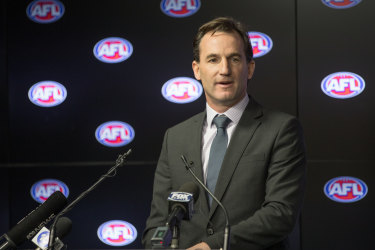 Dillon has been filling in as interim football boss since Steve Hocking left last month after being poached by Geelong to be the club's chief executive officer.
The announcement of Scott's promotion is another significant blow to Carlton.
Scott had been contacted by Blues football boss Brad Lloyd just before former St Kilda and Fremantle coach Ross Lyon pulled out of the process.