"Recognise the privileges that those of us who are still able to work get, and if it means you can't sit with your mates while you have a sandwich, that doesn't seem to be a huge burden," Mr Weimar said.
Mr Weimar said tearooms posed a significant risk of transmission with workers coming from different parts of the city, sitting in small spaces, and eating and drinking. The number of cases from the Panorama construction site in Box Hill this week grew to more than 140, making it one of the state's more significant current outbreaks.
The "no jab no job" rules will apply from next Friday for any worker who has not had at least a first vaccine dose.
On Friday afternoon both main construction unions, the CFMEU and the Australian Workers Union, met with the Andrews government to voice their opposition to the closure of tearooms on major building sites, and the introduction of mandatory vaccinations.
CFMEU Victorian secretary John Setka claimed the action "wasn't really a protest" and workers at big construction sites did not have anywhere else to take their breaks.
"If we can't sit in the smoko shed where do we have our break? So they've taken all the tables and chairs out into the fresh air," Mr Setka told 3AW on Friday morning. "They've got nowhere else to have their smoko."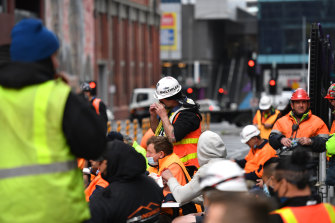 A Multiplex site on Lonsdale Street saw about 150 tradies lay out tables and fire up a barbecue, forcing traffic to bypass the area for about 20 minutes. Police surrounded the peaceful protest to stop it expanding and blocking traffic elsewhere.
One man told The Age he expected the protest to continue on Monday because the construction workers had nowhere else to enjoy their breaks without a tearoom.
Loading
Phil Dwyer is a builder and national president of the Builders Collective, a lobby group for small and medium-sized construction companies. He commended the state government's mandatory vaccination decision.
Mr Dwyer said many in the industry did not take COVID-19 seriously enough. "Unless it directly affects these blokes on building sites, they just take the attitude 'She'll be right'. Half of them don't want to get vaccinated; the talk is generally that nothing has been proven."
He said building workers needed to be vaccinated, as much for their own safety as the wider community. "They will become among the most vulnerable – let's face it, in the building industry, a hell of a lot of people are overweight and have poor diets."
But Mr Dwyer predicted the mandatory vaccine direction would make little difference. "No-one will check and while it might be mandatory, how will they police it? They won't."