Developers and investors are defying market jitters and circling the burgeoning tech hub in Sydney's Haymarket and Central Station precinct to snap up more mixed-use projects ahead of expected growth after the pandemic.
Low-interest rates and favourable financing conditions are also providing the impetus to take the plunge into the higher-yielding bricks and mortar assets.
One of the latest deals gaining attention is the potential to combine two properties in the Haymarket precinct worth about $350 million, to create a near 80-storey office tower and a potential hotel.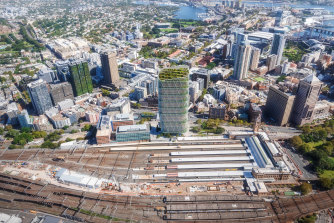 Haymarket sits at the convergence of several precincts that have been ear-marked as a combined major tech and innovation hub – the Ultimo-Camperdown Collaboration Area, the NSW Government's Tech Central precinct and the Western Gateway sub-precinct adjacent to Central Station.
Fuelling the growth is the tech giant Atlassian, which has struck a deal with office landlord Dexus to build the 40-level skyscraper at 8-10 Lee Street in the Central tech precinct. Atlassian will take a 15-year lease and use the building as its main headquarters.
Private developer Ceerose is selling its prime located site at 757-763 George Street in Haymarket, near the new hub. The original plan was for a hotel on a 1031-square-metre site.
Colliers International and IB Property are selling the site which has been earmarked for significant redevelopment potential. The agents declined to comment on price, but similar sites have been valued at about $100 million.
The private owners of the adjoining 187 Thomas Street site, Adelaide developer Greaton, have also decided to test that market with the sale of its property.
If the sales are bought in one line, the buyer will have a combined site of 3,382 square metres and a tower of about 81,288 square metres at an estimated height of 246 metres, subject to City of Sydney Council approval.