That's a wrap for the first game of the second week of the finals, the Sea Eagles blasting into a grand final qualifier against South Sydney after cruising past the Roosters 42-6 at Mackay. The game was as good as over inside the first 20 minutes with the Sea Eagles leading 18-0 and never looking back.
Tom Trbojevic brushed off that underwhelming first final against Melbourne, bagging two tries and being a constant threat as he equalled equal Phil Blake's club record of 27 tries in 1983. Jason Saab is only one behind on 26 after a scintillating runaway try.
Take nothing away from the Roosters, who simply just ran out of fuel and troops at the end of a tortuous season. To think this side couldn't even name 21 fit players a few weeks ago.
Make sure you join us for the second semi-final on Saturday night with the western Sydney derby between the Panthers and Eels.
Good night.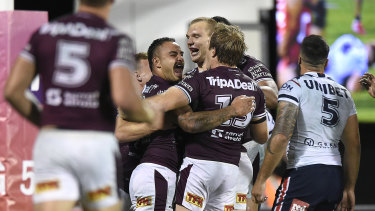 There's a lovely moment with players and officials from both teams forming a guard of honour for retiring Roosters legend Josh Morris, who signs off on a remarkable NRL career.
I'm sure there will be a tinge of sadness he couldn't quite finish with that elusive premiership and play his last game alongside twin brother Brett, but he should be very proud of a remarkable career as one of the most outstanding centres to have played the game.
I'm not quite sure what the NRL is going to look like without the Morris twins next year.
Manly captain Daly Cherry-Evans, who played plenty of junior rugby league in Mackay, is soaking up this win. Speaking to Nine, he talks about what it means for the Sea Eagles to be only 80 minutes away from a grand final.
"Exciting times for the club," he says. "We had to go around the hard way. Would have love to have got a week off, but Melbourne were too good. They humbled us last week. They were outstanding. To come here and play the Roosters side who have been great all season and continue to defy the odds, it's nice to get a result like this.
"I spent so much of my childhood in Mackay. Like the story you told the other night Joey watching NRL teams come through town is what inspired me play rugby league as a kid. So to play a game here, let alone a finals game, I will remember this for a long time."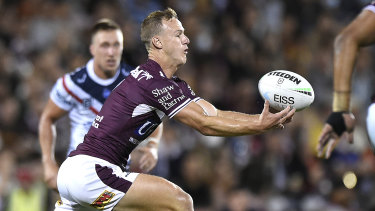 That has to be one of the most comprehensive semi-final performances in recent NRL history, the Sea Eagles romping into the grand final qualifier with a 42-6 thumping of the Roosters in Mackay.
It was so comprehensive Des Hasler even had time to take Tom Trbojevic off with 15 minutes to go, closely followed by Daly Cherry-Evans, as Manly quickly put the loss to Melbourne behind them. Trbojevic finished with two tries and Cherry-Evans was spectacular in the first half.
They'll next play Wayne Bennett's South Sydney for a spot in the decider at Suncorp Stadium on Friday night.
It's such a harsh way to end for the Roosters, who have battled all year with a tremendous injury toll. This shouldn't take away from their achievement, but there was only going to be one winner tonight after the Sea Eagles blasted to an 18-0 lead inside as many minutes.
It's the end of the road for Josh Morris, who will retire, while Isaac Liu will head to the Titans and assistant Craig Fitzgibbon will take over at the Sharks.
But the night belongs to one team; one who was last after a winless opening four rounds and on track for a grand final return.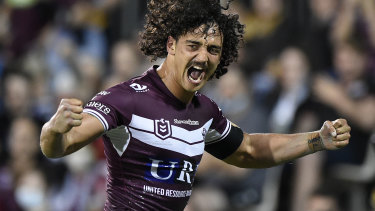 It all feels very flat at Mackay now as we wind down inside the last six minutes.
This has been all one-way traffic from the opening minutes, and it's grossly unfair the Roosters' season is going to end on this note. I don't think you'll see a more courageous effort to make the second week of the finals than this.
It will take a while to digest, but this has been one mighty effort in 2021.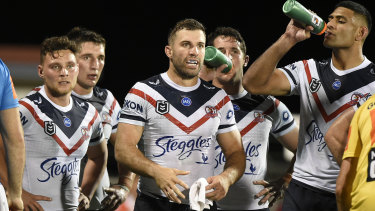 That has to be one of the prettiest sights in rugby league, Jason Saab (is he the fastest man in the NRL?), pouncing on a Morgan Harper pass after Adam Keighran spilled a ball off a Daniel Tupou bat back.
There was a bit of lair there from Saab, who smiles and then pokes out the tongue as if he's charging down the outside fence at Royal Randwick as Martin Taupau and his teammates hang over and cheer home their man on a 70-metre sprint.
But what about the effort of Isaac Liu, the Roosters front-rower who never stopped chasing the whole way despite never being a hope of catching Saab? It's his last game in Roosters colours before heading to the Titans. That just about typifies the Roosters.
Reuben Garrick's conversion extends the lead to 36 points. It's 42-6 with 10 minutes left.
That's it. Des Hasler has seen enough.
Out comes the cotton wool with Manly's superstar Tom Trbojevic taken from the field a little more than 15 minutes remaining. Just another devastating two-try night for the fullback, who will win his first finals game and be 80 minutes away from his first grand final appearance.
Who is going to join him on the sidelines, I wonder?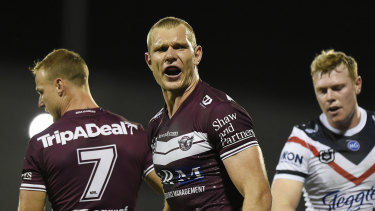 Just like they would have done in the backyard…
James Tedesco is arguing the toss with referee Gerard Sutton over a penalty ruled against Daniel Tupou for passing the ball off the ground. He was being bundled into touch by Morgan Harper and Jason Saab, and I don't reckon his ball-carrying arm ever touched the ground. I'm not quite sure what he did wrong there.
Despite the score, Tedesco is desperately trying to talk sense into the whistleblower. No dice. That's one competitive hombre.
I've barely had a chance to mention Josh Morris so far tonight, but the veteran Roosters centre is counting down the minutes in his final NRL game.
It's been one helluva year where his brother Brett ruptured his ACL and was forced into premature retirement, he's battled his own injuries and now the sun is setting on a career with more than 300 NRL games and a couple of grand final appearances. Sadly, it won't be with that title he's chased his entire life.
But what a sensational player he's been for the Dragons, Bulldogs, Sharks and Roosters. Bravo.