A leading Hobart-based economist says there is merit in the AFL considering private ownership for a new club based in Tasmania, as club presidents continue to debate whether a 19th club should be admitted.
Saul Eslake, who has been a long-time supporter of Tasmania's ongoing bid to be given the AFL's 19th licence, said the issuing of shares to supporters could be a way of easing the monetary load to be carried by the AFL and state government.
The Carter report released last month did not discuss private ownership but Colin Carter, the report's author and a former AFL commissioner and Geelong Football Club president, told The Age it would not work because the new club would be "less wealthy" and "private investors need positive cash flows". His report found that a new club will need $10 million per year from the state government, with AFL distributions at $11 million, with membership, merchandise, sponsorship and ticketing on top of that.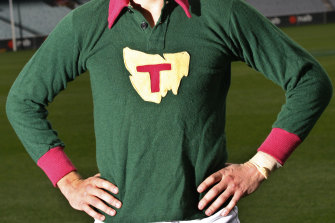 The 18 club presidents will vote midway through next year on whether a new club should be admitted, with 13 – a clear two thirds – needed to support the move for it to be given the go ahead.
As the debate continues, Eslake said he did not want a repeat of the turbulent times of the 1980s when disgraced business figures Geoffrey Edelsten and Christopher Skase owned the Sydney Swans and Brisbane Bears respectively, and questioned whether any of Tasmania's richest citizens would want to "sacrifice" their money for a share of the club. But he suggested a system where 25 per cent of the shares were owned by the Tasmanian public was worth considering.
Loading
"If there was some way of allowing Tasmanians to buy shares in it and they have got club membership and there was a requirement that a minimum portion of those shares be held by Tasmanian residents, which you could probably do … but it would only work if the amount that you needed to buy shares was something Tasmanians could afford," he said.
"Then if you said say 25 per cent of the shares could be owned by mainlanders … you wouldn't rule it out. I prefer it to be a hybrid (club), which Carter mentioned as a possibility."
The A-League's Melbourne Victory allows supporters to buy shares, while the NRL's Brisbane Broncos are listed on the Australian Stock Exchange, and are trading at 79 cents per share.