Child-friendly bushwalks, bike paths and beaches as well as online arts and craft classes are among school holiday activities during lockdown suggested on the North Shore Mums website.
The Museum of Contemporary Art is selling an art-making kit for primary school children for $100 or free with a NSW Creative Kids voucher, while Monkey Baa Theatre is offering online drama classes.
Tourist attractions such as SEA LIFE Sydney Aquarium and WILD LIFE Sydney Zoo are offering virtual visits, while Hunters Hill Council is offering online science workshops with its Little Bang Discovery Club during the school holidays.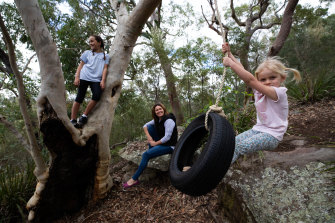 Participating in online holiday programs must be supplemented by regular offline and physical activities, Professor Falloon said.
"Try to have a loose holiday plan but keep it flexible," he said. "Involve your child in creating the plan. They should have some ownership of it, and choices made within it."
Professor Falloon also said social connections with family and friends should be maximised so far as public health rules allow.
Viviana Wuthrich, professor of psychology at Macquarie University, said families need to focus on what they can do during the school holidays, and not what they may be missing.
"Most important for mental health is relaxation and engaging in simple pleasures," she said. "This gives the break from the stress of always being pressured to do something, and allows for rejuvenation."
Professor Wuthrich said downtime was important for both kids and parents: "It is an important part of regulating stress. Although lockdown might seem like 'downtime', it is not."
Travel would normally be a part of Randwick mum Eugenie Pepper's school holiday plans. Last July she had to cancel a trip to Greece with her parents and her children, and also missed out on a mum-and-daughters holiday to Melbourne.
But Ms Pepper is also looking on the bright side – a respite from extra-curricular activities, sport and homework. "There are health benefits to doing nothing, spending time doing nothing in particular just being and just relaxing," she said.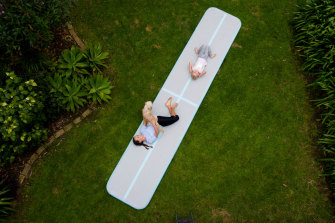 Ms Pepper said her daughter's school had sent students home with a list of teachers' favourite recipes to cook, suggested books to read, tips for wellbeing and activities.
"My son's school sent home the circuit training kit and suggested exercise and running apps," she said.
Loading
Julia Shingleton will take some time off during the school holidays to focus on her kids after what she called a "quite stressful" three months of lockdown.
The juggle of supporting small children doing remote school work while both parents also working remotely," she said. "The lack of interaction with their friends, cousins and grandparents has been really hard for the kids."
Ms Shingleton, from Marrickville, said her sons aged eight and six were excited about not having to do online learning for two weeks.
Cycling along the Cooks River, exploring local parks and going to a skate park are some activities the family has planned for the holidays.
"We will also work on getting our veggie garden ready for spring," Ms Shingleton said. "We've also started baking sourdough, as is everyone else in lockdown, so the kids will help with that too."
Stay across the most crucial developments related to the pandemic with the Coronavirus Update. Sign up to receive the weekly newsletter.