Foxtel boss Patrick Delany is expected to unveil a third streaming service based on news as soon as this week as the pay TV company prepares to present its strategy to current and potential investors in October.
The News Corp-controlled Foxtel remains in talks with local media organisations including national broadcaster the ABC about being part of the platform, which will officially launch mid-October with access to videos and live footage from at least 15 different news outlets. The service, expected to be branded 'Flash' is expected to cost about $10 a month. Foxtel declined to comment.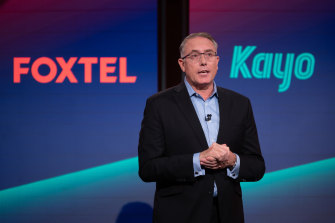 Flash's live news channels will include CNN, CNBC, BBC and Fox News as well as local players including News Corp's Sky News. It will run similarly to Kayo Sports, which hosts live-streaming channels as well as small-clips of particular programs or events. But the plans, according to Foxtel sources, are to extend the content to other local news players. The service is currently led by former news.com.au editor-in-chief Kate De Brito.
"We're not going to do what you think [with Flash]," Mr Delany said in an interview earlier this month. "If you're expecting a streaming service that's got 20 channels, that's not what it's going to be. The best sort of way to look at it is we will do news about what we have done to sport."
Flash is the third and cheapest streaming service for the Foxtel Group, which also runs Kayo Sports and Binge. The company, which is jointly owned by News Corp and Telstra, pivoted its focus from expanding the traditional cable TV brand to investing in new streaming platforms as it tries to become a pure internet company. The Foxtel Now box, for example, will be discontinued.
"[Becoming an IP company] gives us huge optionality in terms of how we can reimagine the experience," Mr Delany said in an interview with The Sydney Morning Herald and The Age. "It allows us to really dramatically reduce cost. Rather than giving everyone a disk drive, you can put everything in the cloud. Instead of having to call centres, you can do everything digitally."
As of June 30, Foxtel had 3.9 million subscribers. About one million of those came from Kayo Sports, while entertainment service, Binge, reported 733,000 paid subscribers. The average revenue per user for the quarter increased 4 per cent to $81. In the next 18 months, Foxtel is preparing to farewell cable TV subscriptions altogether as it migrates the remaining Foxtel users (more than 200,000) to its new box, the IQ5.
Loading
The announcement of Flash will come ahead of Foxtel's first strategy day, which will run on from September 29 to October 1 across the US and Australia. The day is being run by Foxtel, News Corp – which owns 65 per cent of the company – and Telstra – which owns the remaining 35 per cent, and has been established to inform current and potential investors about the business and its financial performance.