Washington is reacting to Beijing's shifting of the status quo over Taiwan with arms sales, high-level visits and stepped-up efforts to include Taiwan in multilateral institutions, and statements about Taiwan in bilateral and multilateral forums.
Until now, Australia had been far less willing to publicly make more commitments to Taiwan, adhering to long-standing policy. It was not so long ago when Australia's relationship with China was in a very different place. Not so long ago, Australia abandoned plans for a free trade agreement with Taiwan at Beijing's insistence.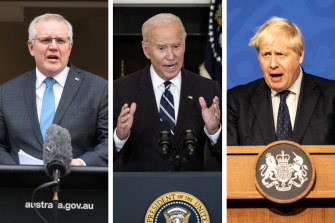 The language in the joint US-Australian (AUSMIN) statement, in the context of Australia's plans to scale up its defence capabilities via the AUKUS agreement, is a remarkable sign of how much things have changed.
The AUKUS agreement is a step towards building a stronger deterrent in the region. Yes, some will claim that AUKUS will further inflame tensions with China and make war more likely. These are valid concerns. Is the government's decision keeping Australia safe, or committing the country to an arms race that can end only in a catastrophic and maybe nuclear war?
It is not in Australia's interests to push the region to the brink of the unthinkable. But let's be clear. It would also not be in Australia's interests if Taiwan, a flourishing and free democracy of 24 million people, was invaded and subjugated by force. Canberra must therefore do what it can to prevent both outcomes. AUKUS represents a judgment, a gamble even, that increasing Australia's capabilities is essential to securing a regional order favourable to its interests.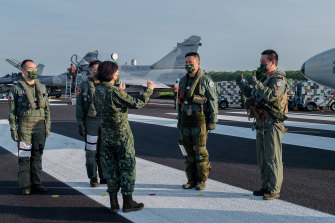 Australia, indeed any country interested in deterring aggression, must find a balance in its strategic posture that eschews aggressive military build-ups but signals a firm yet clear and calm commitment to defend against military aggression.
Such a quest for balance cannot ignore China's colossal program to modernise its military. Beijing is more capable of taking Taiwan by force than it was 10 years ago. To remain effective, deterrent capabilities must grow in response. Representatives from both Taipei and Tokyo have already welcomed the AUKUS announcement.
Australia is updating its policies out of fear that Beijing now has the capability to fundamentally reshape the region. Part of its calculation must include Taiwan, which lies at the centre of Beijing's plans.
The expectation is that China will only continue to pressure Taiwan, escalating the risks of conflict in our region. Until recently, Australian officials had raised the alarm about this threat without shifting policy settings. The decisions of recent days are less signals of uncontrolled hysteria but instead considered commitments.
Loading
Deterrence is not without risk. Yes, ideally, Australia's toolkit to promote regional stability would be limited to positive, confidence-building measures that do not attract Beijing's anger and possible retaliation. But such a limitation would not eliminate risk, only shift it.
China has decided it requires a military force that will allow it to achieve outcomes that are fundamentally at odds with Australia's vision for the region. Australia's strategic policy is reckoning with that reality.
Natasha Kassam is Director, Public Opinion and Foreign Policy Program at the Lowy Institute. Darren Lim is a senior lecturer in the School of Politics and International Relations at ANU.