Four-time premiership coach Alastair Clarkson has told Carlton he will not be coaching in 2022 after the Blues made a last-ditch attempt to woo the former Hawthorn coach.
His decision opens the way for the club to appoint Michael Voss, who is considered the frontrunner for the vacant position, after formal interviews were held with Voss, Adam Kingsley and Daniel Giansiracusa last week.
Clarkson confirmed on Fox Footy's AFL 360 show on Monday night that he had told incoming Blues CEO Brian Cook that he was sticking to his decision to not be a senior coach in 2022.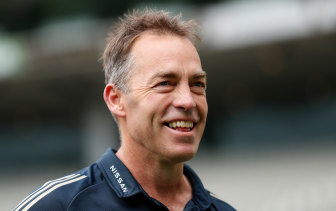 "I need a spell. I've only got two gears and that is flat out or stop, and I am just not ready to go flat again right now," Clarkson said.
Loading
He said his family had originally decided to reassess his future at the end of 2022, but that had been brought forward after the Hawks decided to go with incoming coach Sam Mitchell.
Clarkson said it was important to spend time with family and friends, study and also give back to the game including helping Tasmania's push for a standalone team.
He said he respected the process Carlton and Collingwood went through and there was a lure to coach them but "it wasn't strong enough to overpower my thinking to what my family and I need right now, and that is a 12-month spell".
Clarkson had already declared he would spend 2022 working on his professional development, travelling and spending time with his family after a lifetime in football, which included 390 games and 17 consecutive seasons as Hawthorn's senior coach.