By way of example, Hodgson pointed to the head-high crackdown as an opportunity missed to properly garner player feedback. The English international believes players need a seat at the table on a competition or innovation committee to help make the game as safe and attractive as possible.
"Consistency is the biggest thing," Hodgson said.
"For example, look at the number of sin-bins for head highs when it was brought in the first week in Magic Round. Now it's dwindled down.
"You didn't need to have that Magic Round ravaged by sin-bins and send-offs and then have it dwindle out towards the back end of the year and just placed on report.
"If you're part of the process, you know what to expect. You can offer your opinions and give advice to them on what is a blatant head-high and what is just [an accidental] part of the game.
"We play a contact sport with blokes running at 20-30kmh into each other as hard as they can while stepping. You don't want bans for things that sometimes can't be helped.
"The judiciary and decision-making is both tied into one [issue] for me."
Hodgson's opinion is that increasing fines won't improve player behaviour, which he believes is most affected by the culture senior players set at each club.
"You need a fine, you need to crack the whip sometimes, but heightening those fines is not the route to go down," he said.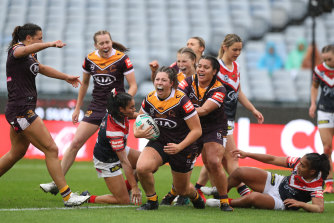 The NRL will also need to work hard to win back the trust of its women's stars following the cancellation of the season due to COVID-19. The players felt they had not been properly consulted and also want to review the contracting structure and broadcast opportunities.
"That is definitely the main issue, the communication, and just how last minute we were told," said PAG representative Chelsea Lenarduzzi, a star for the Broncos and Jillaroos.
"We plan our lives around this and to be told a few days from the start date, that's affected a lot of players quite drastically.
Loading
"We had a lot of meetings and the RLPA expressed our concerns to the NRL, and it felt like we just weren't being heard at all.