France's reaction to losing its Australian submarine contract has been forthright to say the least. The Foreign Minister and ambassador have accused us of "treason", backstabbing and lying. The response might be overstated, but they have a genuine right to be furious.
Australia's decision to ditch an agreement for 12 conventional diesel-powered submarines from France's Naval Group and to instead throw our lot in with the UK and the US on the promise of at least eight nuclear-powered boats has deprived the French of an enormous, $90 billion contract.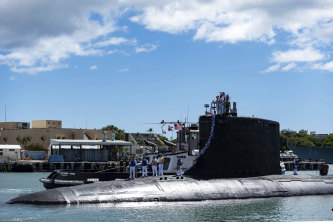 As The Age has previously stated, we have concerns about the lack of debate around the formation of the AUKUS pact. Prime Minister Scott Morrison's bombshell announcement last week not only ignores years of opposition in this country to any form of nuclear power but also positions us militarily against an increasingly muscular China. This change of tack deserved public and parliamentary scrutiny that it did not get.
China has made it clear it regards our technological leap from diesel-electric to nuclear-powered as an "extremely irresponsible" threat to regional stability.
Compared with our existing fleet, the new vessels will be faster, quieter, deadlier, much harder to detect and, crucially, will be able to spend seven times longer on patrol, constantly submerged, in the South China Sea. On balance, we believe the decision to adopt this technology, and the attendant sharing with the US and UK of military know-how and materiel including hypersonic missiles, is one worth making despite huge cost and clear risks.
Loading
There has, however, been an unnecessary casualty: our previously fruitful relationship with the French. Tearing up the contract is one thing – which in itself is likely to prove very expensive – but not giving our partners any indication it was about to happen while simultaneously pretending the relationship was strong and getting stronger is another.
It was only last month that Foreign Minister Marise Payne and Defence Minister Peter Dutton agreed to significantly enhance defence co-operation with their French counterparts – one imagines in full knowledge that the French sub deal was already dead in the water, or close to it.
The New York Times has reported that Australia and the US went to "extraordinary lengths" to keep France in the dark while they planned the new pact, with the French only finding out at the last moment, the diplomatic equivalent of being dumped by text – "it's not me, it's you".