"He's been quite a handful at training. That's what we want. This is where the other players in the squad become so important.
"They have been all year, but the standard they set for us at training, the likes of Latrell, are really testing us. This will only make us better on the weekend."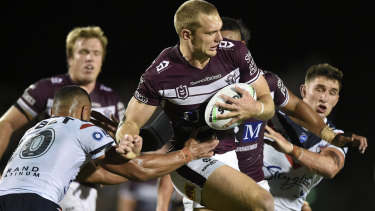 Cody Walker, shortlisted alongside Trbojevic as a Dally M favourite, was asked how to stop the Sea Eagles fullback.
"I don't know," Walker replied. "He's had an outstanding year this year. Not many teams have been successful. I don't think you can stop him, you've just got to limit him with that possession game.
"You've just got to convert at their end as much as possible, not give them any leg ups out of yardage, have high completions. Have a full line whenever you put in a kick-chase down there, not a staggered line.
Loading
"If you don't give him too many opportunities in our end, hopefully you don't see him. It's easier said than done."
Murray said he was proud of the way Taaffe has acquitted himself in Mitchell's absence.
"He's done a great job," Murray said. "We had every confidence that he would do the job he could do last week. He stepped up to the plate under pressure and executed everything he needed to do at the back there.
"We're really proud of the way he has stepped up into the position he's been given.
"It was a good game for him, there were probably a lot of nerves there, but it was good to get the win there. It probably does a lot for his confidence leading into another big game."
The challenge now for coach Wayne Bennett is to get his side to take the next step after it stumbled in the past three preliminary finals.
"Sometimes it's better not to make the finals at all, that's how hard it hurts," Cook said.
"Wayne talks about the deeper you go in, the harder it is to miss out."