Almost nine in 10 Australians will face higher average tax rates over the next decade despite the federal government's three-stage income tax cut plan, with new independent analysis showing the budget will increasingly rely on ordinary workers to recover from the COVID-19 recession.
Work by the independent Parliamentary Budget Office, released on Tuesday, shows low and middle-income earners – particularly women – will suffer substantial increases in their average tax rates due to bracket creep.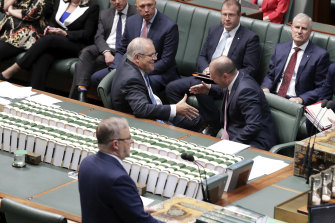 By the start of the next decade, with the budget still running a deficit of $52 billion, the share of government revenue coming from personal income tax will be at its highest rate since 1999.
The final stage of the government's three-stage tax plan begins in mid-2024 with a large cut in tax rates for the nation's highest income earners. That follows tax relief for low and middle-income earners that was rolled out from the 2018-19 budget.
The budget office, in a report into the long-term health of the budget, found the tax cuts reduce the average tax rate for all workers. The largest gains are for those earning between $120,000 and $160,000 with a reduction in their average tax rate of almost 6 percentage points.
But according to the PBO, these gains will be quickly swept away by bracket creep – where income growth results in a person paying an increasing proportion of their income in tax – by 2031-32.
It found just 13 per cent of all taxpayers, those earning between $96,000 and $160,000, would still have a lower average tax rate by early next decade. Workers across all other wage levels will suffer an increase in their average tax rate.
The biggest hit will be to those earning between $20,000 and $50,000, about 30 per cent of all workers, who will endure an increase of up to 6.6 percentage points in their average tax rates. People earning between $50,000 and $75,000 – another quarter of the population – face an increase of up to 3 percentage points.
Even those on the top 1 per cent income in the country, earning more than $309,000, will experience a small increase.