There has been no significant protest action today, with demonstrators failing to gather in significant numbers in the city.
Police were out in force, at first near the CFMEU headquarters on Elizabeth Street in the city this morning, checking the identities and permits of people coming through.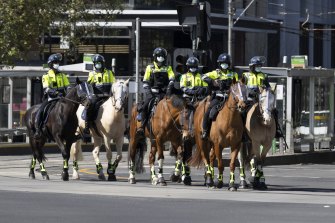 On encrypted social media platforms, demonstrators kept changing the meeting points to no avail.
Dozens of police arrived at the vaccination hub at the Melbourne Museum in Carlton Gardens this afternoon to line the entrance, following talk that protesters were going to go there.
Police have also been keeping an eye on St Kilda for protest activity.
Among the most significant news of the day was community organisation cohealth were forced to temporarily close its vaccination centre at the Town Hall because workers were abused and spat on yesterday.
Premier Daniel Andrews said workers were treated appallingly.
"These people are doing the very best of work. They're vaccinating people for heaven's sake," he said.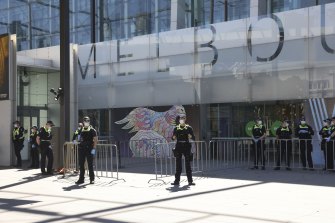 The use of force, by police and against police, has also been a topic of conversation today.
Chief Commissioner Shane Patton said several officers were attacked while doing their job yesterday, including one officer who was bitten.
Mr Patton also confirmed that Victoria Police were reviewing footage taken yesterday that appeared to show a civilian being body-slammed by a police officer in Flinders Street station while protests were taking place outside.
In a statement released a short time ago, Victoria Police said professional standards command and the transit safety division were investigating and called for witnesses, and the person who took the footage, to contact Crime Stoppers on 1800 333 000.
Despite today being a fizzer, protests may still occur tomorrow.
With that, we'll close the blog out for the day with more messages of support for cohealth staff from readers.
"Health workers are doing it really tough at the moment, and they need all the support they can get from all of us," Eric van der Wal, from Bendigo, wrote.
Joel Karanikas said healthcare workers were profoundly strong for putting themselves on the line.
"Their endurance, hard work and deep sense of social responsibility deserve the utmost public attention and sympathy," Joel said.
Jack Steiner said: "Thank you cohealth workers for the amazing work you're doing protecting the vulnerable and in turn, Melbourne as a whole", while Michelle sent: "Thank you for your wonderful work…we stand by you and are so grateful for the work you do every day."
Readers have been sending their messages of support for staff manning vaccine hubs across the city.
We've been reporting today that cohealth has temporarily closed its pop-up vaccine centre at the Town Hall, established to help vaccinate the city's most vulnerable, after staff were abused and spat at yesterday.
Tasnim and Forkan emailed:
Dear Superheroes, thank you so much for keeping us safe. You are amazing. We all sensible Melburnians support you. You are not alone.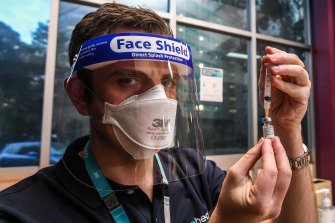 Andrew Esplan wrote:
"Thank you Cohealth workers for the great job you are doing protecting our most vulnerable and thank you to all health workers for looking after all of us.
For each of those despicable people who spit on you or abuse you there are 100,000 plus people who want to give you a great big (virtual) hug.
If you are not yet vaccinated then the best way you can show your support is to go get vaccinated as soon as possible, it's the most important thing you can do in your life right now."
And Anne-Marie Raymond sent:
To our health worker heroes, thank you for continuing to show up for the people of Melbourne. We stand in solidarity with you. To those who were targeted in vile attacks yesterday, I am so very sorry. Please know that for every hater there are thousands of decent people applauding you every step of the way. Thank you for your service
On the blog, one highlight from a reader included:
"Time for more recognition and respect for these workers and the wonderful job that they have done and continue to do. Those seeking a vaccine, don't be deterred, please keep doing so in order that we can return to some more normality to in the not too distant future."
Anti-lockdown protesters failed to gather in any large numbers in Melbourne so far today.
Despite chants of "every day" shouted by protesters at rallies this week, no-one gathered on Thursday.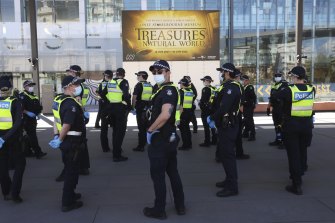 There were dozens of police patrolling Carlton Gardens and the vaccination hub at the Melbourne Museum throughout the afternoon, after indications that protesters had organised to meet there.
However, nothing had eventuated by 3.30pm.
WorkSafe Victoria's health and safety boss has condemned people who are violent towards community workers, after staff at the Melbourne Town Hall vaccination clinic were spat on and abused on Wednesday.
Andrew Keen said today that everyone has a right to a healthy and safe workplace, and "no matter if you are a worker, customer or member of the public, violence in the workplace is never OK".
"It's distressing to see the anger and at times physical violence aimed at workers, particularly those who are putting their own welfare on the line to help keep the rest of us healthy and safe in these uncertain times," Mr Keen said.
"Whether it is a nurse, doctor, police officer, bus driver or retail worker, this behaviour is unacceptable because of the crippling psychological and physical trauma it causes."
WorkSafe's "It's Never OK" campaign is returning to Victorians' screens this week, and will reinforce the message that violence and abuse is never "just part of the job".
Mr Keen said community attitudes had to keep changing in order for the bad behaviour to be stamped out.
His call for change came after Premier Daniel Andrews reported vaccination staff at Melbourne's Town Hall clinic were "treated appallingly" on Wednesday, with some people, pretending to be legitimate protesters, spitting on and abusing staff. The centre, ran by cohealth, was set up to help vaccinate the city's vulnerable, including the homeless.
There has been plenty of support for healthcare workers who have been subjected to abuse while staffing vaccination hubs.
Premier Daniel Andrews told the COVID press conference earlier that workers from cohealth, who were manning the vaccination hub at the Town Hall, were treated appallingly yesterday by people "pretending to be legitimate protesters".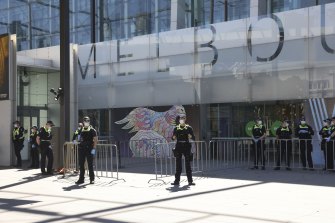 "That's not called for. These people are doing the very best of work. They're vaccinating people for heaven's sake, they're providing with close to certainty…that [people] will not become gravely ill," Mr Andrews said.
"Why would you abuse, why would you, as I'm told, be spitting on people who are doing that sort of work?"
Mr Andrews said he expected Victoria Police to identify and "deal with" those responsible for the abuse.
Cohealth chief executive Nicole Bartholomeusz confirmed earlier today that she closed the Town Hall centre, set up to vaccinate the city's most vulnerable, until at least Monday due to staff being targeted amid violent and unpredictable protests.
"I am distressed to report that there have been several incidents of cohealth workers in the city being physically and verbally abused while on their way to work, targeted because they were wearing their cohealth identification," Ms Bartholomeusz said in a statement, which you can read in full.
The former Labor attorney-general Jill Hennessy said on social media that cohealth was an organisation that stands with and serves all the community without judgement.
"Unlike the buffoons who bullied them & us all today," she wrote on Twitter.
If you'd like to send a message of support for the healthcare workers, you can post them in the comments section of the blog or email tammy.mills@theage.com.au. We will try to post them on the blog this afternoon.
While our reporters on the ground say all is quiet on the protest front, here's a story from David Estcourt on a court decision for an anti-lockdown activist yesterday.
Victoria Police were seeking stricter bail conditions in the Supreme Court yesterday for activist Monica Smit.
Ms Smith was granted bail in the Melbourne Magistrates Court in early September after she was charged with two counts of incitement and three of breaching the Chief Health Officer's directions.
Her bail conditions included a 7pm curfew and not encouraging anyone to breach the CHO directions or publish anything (on, for example, social media platforms) that might incite others.
She was also ordered to remove material previously published online, to stop attending protests and to wear a mask.
Ms Smith ultimately refused to sign the bail conditions, so she was kept in prison.
Supreme Court Justice Elizabeth Hollingworth varied her bail yesterday, rejecting several of the original conditions that were sought by police and prosecutors, including the curfew and removing previously published material.
Three media companies have successfully challenged temporary airspace restrictions above Melbourne's CBD, which would have prevented the live broadcast of the protests this week.
Nine Network, owner of The Age, Seven and the ABC were granted a stay this afternoon against two notices that banned helicopters from flying above the CBD and showing live footage of the unrest.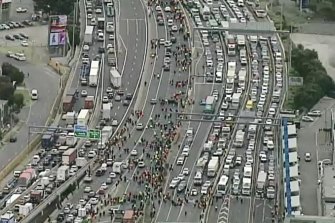 The application, heard in the Federal Court, will now proceed to a trial. That stay means the media companies can resume live coverage in the interim.
The airspace restrictions were made on Wednesday by the Civil Aviation Safety Authority at the request of Victoria Police.
Police said they asked for the restrictions because "protesters were actively monitoring aerial live streams, compromising police operations and putting the safety of members at risk".
But Will Houghton, QC, representing the media companies, told the court the public was entitled to know what was occurring in the city of Melbourne.
When a ragtag group of demonstrators wandered down Waterdale Road near La Trobe University in 1970 police charged into the non-violent crowd, later saying, "They got some baton today, and they will get a lot more in the future".
Since then, police and politicians have accepted that public protests are part of democracy.
Senior crime writer with The Age John Silvester has written an analysis on changing police tactics, refined over decades, towards protests.
But in the past few weeks police tactics have changed and changed again in the face of anti-lockdown demonstrators.
Dozens of police are patrolling the Melbourne Museum vaccine centre.
Age crime reporter Simone Fox Koob is there at the centre located in the Carlton Gardens, just north of the city.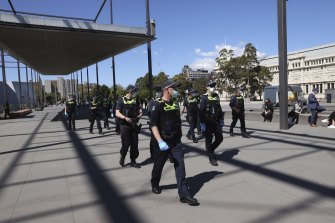 Police have lined up at the vaccination hub entrance, while others are patrolling nearby.
The patrols moved there after health workers were targeted at the Town Hall vaccination hub in the CBD earlier.
Cohealth, which runs the centre set up to vaccinate vulnerable people including the homeless, confirmed staff were spat on and abused, forcing the hub's closure until next week due to the "increasingly violent and unpredictable nature of the protests in the city".
Premier Daniel Andrews said the protesters had not made the government reconsider its stance on mandatory vaccines in some sectors.
"That decision has been made. And I would just note, the same decision was made in New South Wales," he told the state press conference earlier today.
"And I just, I just say to people, violence doesn't work, only vaccination works against this. Go and get vaccinated."
Mr Andrews told the daily COVID-19 press conference that the ugly actions of a small number detract from the work that the vast majority of people across the state have been doing to follow the rules and make "huge sacrifices".
Protests have been occurring across the week, at first from some in the construction sector opposed to mandatory vaccinations and other restrictions, and then by conspiracy theorists and people who are anti-vaccine, and anti-lockdown.
"We're so close to getting to that 80 per cent single dose, the 70 per cent double dose and then 80 per cent double dose," Mr Andrews said.
"Getting the place open, that's what I'm passionate and committed to doing. Everyone, None of us should do anything to put that at risk is what I'm saying…"