The only downside of the Rabbitohs making the grand final, we're going to have watch those Menulog ads featuring all the South Sydney players on loop all week!
No, in all seriousness it has been a magnificent night for the pride of the league as they belted a below-par Manly 36-16 at Suncorp Stadium to book a grand final spot where they'll play either Melbourne or Penrith. It has broken a run of three straight preliminary final defeats.
Cody Walker, Jaxson Paulo and Alex Johnston each finished with two tries, Adam Reynolds was given an early shower after carrying a groin problem into the game which prevented him from goalkicking and Wayne Bennett will now have a shot at history being the first coach to lead three different clubs to a title in his 10th grand final.
What a week we've got in store. Here's Phil Lutton's match report from Brisbane.
Good night!
Benji Marshall will play in his second NRL grand final – 16 years after his first. All those years when people thought he was done, this is perhaps his legacy in what is likely to be his last game.
"I can't tell you how much relief that is," he told Nine. "I knew coming here what my role was. I could have played anywhere. I've enjoyed that role.
"Age is a number. I'm just going out there trying to enjoy myself and bring a bit of energy. The coach is a bit grumpy and someone has to calm him down, and that's my job. He still gives you goosebumps before the game. His speech today was pretty special. We were ready to go."
To have been a fly on the wall for that.
Unfortunately, we've seen the end of Tom Trbojevic's season after a memorable run of form which has driven the Sea Eagles to one game from the grand final. I'm sure there will be a handy consolation on Monday night where he's expected to take out the Dally M medal from South Sydney's Cody Walker and Penrith's Nathan Cleary. And he'll leave with the honour of most tries in a single season for the Sea Eagles.
You have to wonder how much the Sean Keppie concussion in the opening minutes affected the Sea Eagles, whose interchange rotation was completely thrown out. And I'm sure we'll be hearing more about why it took referee Ashley Klein so long to stop the game as Keppie staggered around in defence trying to make tackles before a trainer took him from the field.
Not much went right all night for the Sea Eagles, and you have to wonder how much the botched bus trip affected their performance tonight. They needed a police escort to get to the ground with kick-off delayed by 15 minutes with shocking traffic from the Sunshine Coast to the Brisbane. They'll still be happy with their turnaround after a shocking 0-4 start to the season, but they were off the pace tonight.
Adam Reynolds has just spoken to Nine about why he wasn't kicking goals tonight. He confirms he strained his groin at training during the week, and felt like he couldn't kick after trying in the warm up. It's going to be a very interesting watch in grand final week before his last game in cardinal and myrtle.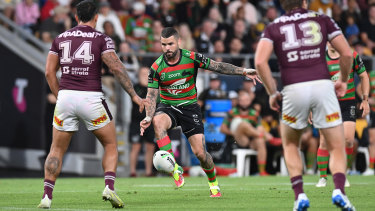 Was that Latrell Mitchell or Blake Taaffe? That is exquisite from the little fullback, who has tapped on a pass to Alex Johnston, diving over in the corner for his second try of the night and 29th of the season. Those hands from Taaffe were spectacular.
His conversion from the sideline swings wide, but the Rabbitohs have won comprehensively 36-16 over the Sea Eagles.
And there goes the full-time siren, the Rabbitohs are into another grand final. What a night for the pride of the league and Wayne Bennett will be coaching his 10th grand final.
Well, I don't think Wayne Bennett will be too pleased with this.
His team are heading to the grand final, but they've just conceded two tries in the space of three minutes to a team with a man in the sin bin. This time it's Reuben Garrick benefiting from a Moses Suli break to outsprint Blake Taaffe for his second try of the night.
It's real cue in the rack stuff at the moment from the Rabbitohs. They've had this one won for a long time, but it's not a nice way to end the game. I reckon Bennett will be reminding them about it, too.
Garrick's conversion is a beauty and the it's now 32-16 with just two minutes left.
Manly have a consolation try, and who else? Tom Trbojevic has broken the single season for most tries for the Sea Eagles, crossing for his 28th after backing up a break from Moses Suli and the 12-man Manly add just a touch of respectability to the scoreboard. Phil Blake had previously held the mark
Reuben Garrick's conversion is wide of the right upright and the Rabbitohs are leading 32-10 with just five minutes left.
It's all become a bit scrappy in the final minutes. South Sydney are still hammering away on the Sea Eagles' line, but have made a couple of errant passes and handling errors. This really could be a lot uglier for Manly while Josh Aloiai is in the sin bin.
Righto, with only seven minutes left in this and everything pretty academic, who are we thinking will meet South Sydney in the grand final? The Storm will be red-hot favourites, but can the Panthers exact revenge for last year's grand final defeat?
Wayne Bennett has seen enough, he's finally taken Adam Reynolds from the field with 12 minutes left.
What a weird feeling he must be going through right now, obviously ecstatic he will finish his time at the Rabbitohs with a grand final appearance, but clearly hampered by an injury which has prevented him from goalkicking.
Benji Marshall will slot into the halves alongside Cody Walker.
There's a spat between players from both teams after Josh Aloiai puts Mark Nicholls in a dangerous position with a lifting tackle.
It's a penalty and the Manly prop is sent to the sin bin, but Damien Cook takes exception to it and players rush in from everywhere. If you're a South Sydney player, you don't want to be anywhere near this. Nothing to gain, and everything to lose with the grand final around the corner.
Now, how do Manly stop this getting really ugly with only 12 players on the field and 12 minutes left?