She said it was when her friend got put in a chokehold that her daughter called police. "I'm very proud of her for doing that," she said.
"The kids didn't sleep last night.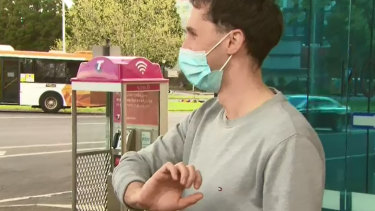 "I feel for our kids, I'm devastated that they had to experience something like that."
Sergeant Ross said two men came to the aid of the women, but the father of the family threatened them and then set his dog – believed to be a Staffordshire terrier – upon them. The dog allegedly bit both the men on the hand.
"This family group, where they've come from we don't know, but they were also at the park – they weren't wearing masks," Sergeant Ross said.
"It has just erupted … into a vicious assault of these two ladies, and utilising a dog to attack two males who have tried to help these ladies."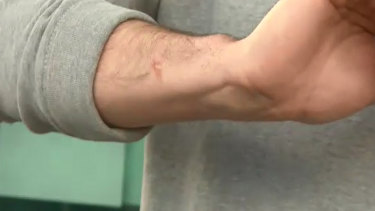 One of the men who was attacked by the dog, Alex Kimberley, said when he sprinted over to help the women, "a bloke came over with his dog and basically told me if I touch the lady that's choking the other lady, he'll knock me out".
"The next thing I know, the dog's latched onto my arm," he said.
"I went to go after them down the street, but I lost them."
The family who allegedly attacked the women were last seen leaving the park heading towards Grosvenor Street and Rialton Avenue.
The two 11-year-old girls were not injured during the alleged assault, but paramedics had to attend and treat the two women and men.
The father of the family police are searching for is described as a man of Caucasian appearance with a sleeve tattoo on his left arm, a bald head and a goatee. He was wearing black tracksuit pants with distinctive stripes on the side, a black T-shirt and runners during the incident.
Loading
The mother of the family has long, dark hair and appeared to be aged in her 30s or 40s.
"We're appealing today for anyone else that was at the park, that saw this incident, to contact us or contact Crime Stoppers," Sergeant Ross said.
"But [more] importantly, we're appealing for this family – the man and the lady with these children – to contact us."
Our Breaking News Alert will notify you of significant breaking news when it happens. Get it here.