So after a see-sawing two-and-a-half quarters, Melbourne put the turbo boosters on and, like they did against Geelong, completely blew the Bulldogs off the park.
A stunning 12-goal run either side of three-quarter time abruptly, and emphatically, ended the contest.
The Demons would end up booting 16 of the last 17 goals to turn a 19-point deficit into a 74-point victory.
After 57 years in the wilderness, Melbourne have finally returned to the promised land in sensational style.
The Demons recorded the eighth-biggest win in grand final history and have now drawn level with Richmond and Hawthorn in equal fourth spot on the premiership ladder with 13.
Thank you so much for following along tonight and bearing witness to a massive slice of footy history with us.
A big thank-you also to Roy Ward and Daniella Miletic for their amazing contributions to this year's grand final blog.
As another season comes to an end, I just wanted to also thank you all for following our live AFL blogs throughout the season, and let's hope next year society returns to normal and the eastern states are able to see their usual share of footy action.
Until then, take care and goodbye.
Six-goal hero Bayley Fritsch spoke to Channel Seven after the game…
What about that for a performance? Six goals and a granny.
It was good to play a little part, 57-year drought. It is very exciting times.
Seventeen of the last 18 goals of the game and the biggest grand final winning margin in the history of this amazingly proud club.
That's crazy to hear. We wanted to come into that third quarter and play our best defensive quarter because we thought we let the foot off the pedal in the second quarter. We knew the offence would come off the back of that. To pile on those goals at the end of the third quarter was great reward for good defensive efforts.
The Doggies had all the play. Jack Viney went through a contest, Harmes got it, you kicked a goal. The next contest, 'Tracc' comes out the middle, what did you do?
Tried to sit on Easton Wood's head. Thankfully it came over the back and got a goal.
Two contests in the space of 30 seconds, then another three or four goals straight away. You got the crowd up and about, the boys started to relax.
The support here was unbelievable from the Melbourne fans. That really got us going. Played a massive part in the victory I feel.
You're a premiership player and in the grand final you kicked six goals. You're the first player since Darren Jarman in 1997 to do that in the big dance.
Yeah. I don't know what to say. Landed a couple of cheeky ones early. Was lucky enough to find the ball in the second half. Credit to the boys up the field who laced me out.
What about the three finals? They were emphatic. Belted Brisbane. Belted Geelong. Then you've belted the Dogs in a granny. You can't do it any better?
I think once we've got some momentum in games, we've piled on the goals which has been good in a final. Yeah. It's great times. I'm pretty speechless.
We spoke throughout the game about the inaccuracy throughout the season. You guys were rated No.18 in the league. That changed. When the pressure got put on, that second half was so good to watch, you guys were calm and composed. It started with you and the two goals.
We have done work with Greg Stafford on our kicking and nailing the process. We knew that would stand up in the big games. That showed in the last three weeks. It is nice.
Big Benny Brown, he is a different unit.
He is bit of a different unit but he is a great teammate to have. He is either marking it or bringing it to ground. When he is clunking them and kicking them through the middle, you're happy to be playing alongside him.
Melbourne captain Max Gawn spoke to Channel Seven after the game…
2018 on this ground, you got belted by West Coast. How did you grow from that position?
It was pretty grim. Since I've been at the club in 2009 , we've seen grim times. Especially the 2012-15 era before 'Roosy' came in, there were bad times. The supporters felt it. To come back to scene of the crime in 2018, we won the prelim which was special and then we did that. We love this ground now, it's great.
I get the feeling with you, the camaraderie has got more finely tuned.
That's the most important thing. We've had talented teams, round one, you go we're going to win the flag. It hasn't happened for 11 years. There has been some beltings there. We needed to become closer to the group on the field. Off the field, we're close mates. Go for a beer. On the field, we decided to get closer. When people kick goals, there is genuine love. We saw it at our best in the second half.
Very rarely you get to this stage of the year, everyone is relaxed going to a grand final. Every time we saw 'Goody' in the last couple of weeks, he had a smile on his face. He set the tone.
He gets the intense out in the morning. He wakes up at 5:30, walks 10,000 steps. Maniac in the morning. In the last two games he has had a funny video. We're scared, we're nervous. He's got a funny video, everyone has a laugh, we relax. That's helped us.
We haven't mentioned Neale Daniher and the Stynes family. Got a word for those groups?
We've had a lot of tragedy that's followed the club. Especially since I've been there. Troy Broad ridge, Dean Bailey, who drafted me, Colin Sylvia, his parents reached out to me and Neale Daniher who is going through one almighty fight with MND. His poster was up on the wall before the game. He's got a big quote you can talk as much as you want, it's about doing. That was my speech before the game, quoted his famous comment. He lives with us. He is still going strong. It is a shame he wasn't here tonight. The Daniher family, Stynes family, it is very well documented my connection with the Stynes family. They're special people that make this club special.
All of his career Christian Petracca has worn the label of the Next Dusty Martin and gently resisted the comparison.
Turns out in one way, Christian Petracca is the next Dustin Martin. He is the 2021 Norm Smith medallist after Martin won the past two.
Of course he is the next Christian Petracca, but this was a Dusty-esque performance.
Tom McDonald was up for trade last year, but none of the 17 other clubs were interested in recruiting him. He is now a premiership player. He spoke to Channel Seven after the game…
How is it?
I never thought we'd be here to be honest. Hawthorn belted us for years and years. We were a rabble. We finally turned it around and got a club we can be proud of.
What were the main reasons it turned around? With AFL these days, what was the main reason?
A few things. Talent helps. Having good players is essential but I think we saw a buy into culture, to selflessness, to work rate, to off-season training and we get the result on the back of that.
Norm Smith Medallist Christian Petracca spoke to Channel Seven after the game…
How does it feel, the medal hanging around your neck?
It's sunk in a little bit. This is unbelievable. This is what you play footy for. Invested so much, have sacrificed it with a group of boys that have sacrificed so much of their own game, it's a dream come true. I've dreamt about this, it's a dream come true. To finally be here is so special.
I spoke to you earlier this week, you seemed so calm. During the third quarter, the Doggies had it against you, you set up a couple of goals, stepped up. You were the one who put the team on your shoulders and went forward.
They're an unbelievable team, the Doggies. We knew it was going to be a grind. We didn't think it was going to be a blowout. We didn't like that to be honest towards the end. We knew it was going to keep going and going. Our contest is what we pride ourselves on. Myself and Clayton, I had to get back to getting to the contest. To come through, I'm happy with the way I played.
Melbourne, the game's oldest club and the one that bears the name of our besieged metropolis, have ended 57 years of torment, utterly overwhelming the Western Bulldogs and mocking a mid-game deficit to win a remarkable grand final in the COVID-free citadel of Perth.
In a season finale that contained major momentum shifts and followed a second season of lockdowns and civil unrest in Melbourne in the days before the grand final, the fierce Demons overcame a mid-game domination by the Dogs and sizeable deficit to smash Luke Beveridge's men in the final 45 minutes to win their first premiership since 1964, 13th in the VFL/AFL, and their first in the national competition.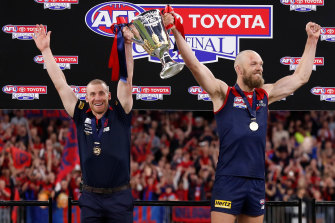 The Demons, who trailed by 19 points in the middle of the third quarter and seemed on the brink of an ignominious capitulation, showed enormous grit – of a kind that Melbourne have not owned often until this season – to win a grand final before an enthralled and AC/DC-decibel 61,118 fans in Perth twilight.
"After 57 years of pain, it's coming home," Gawn told the crowd, before he and Simon Goodwin accepted the cup from another club great, Garry Lyon, to a rapturous roar.
Steven May spoke to Channel Seven after the game…
Gold Coast Suns to the Melbourne Demons, premiership medal around your neck.
It is surreal. I made the decision a few years ago. A lot of lows. This makes everything I went through worth it. Thought I'd regret it. I'm speechless.
Now that the medal is around your neck, how touch-and-go was your injury?
I think in the second quarter, I went for a ground ball, it wasn't great. I thought I've got an hour to get through and fix the hammy and not be a liability out there, able to have some sort of influence. It was all heart, really. I'll deal with this in the next few days.
Todd Viney tried for 13 years to bring home a premiership for the Demons, and even played in a grand final back in 1988, which ended in a disastrous 96-point loss.
But 33 years after that inglorious day, he witnessed his son Jack achieve what he couldn't do.