Suddenly very little was going Melbourne's way. Max Gawn thought he kicked a goal but was denied by a line-ball goal umpiring decision, while Lachie Hunter put the Dogs ahead after drawing a free for high contact from Charlie Spargo. The Dogs had well and truly found not only their composure but so too their cohesion. Suddenly it was Melbourne – down by eight points at half-time – who needed to find answers.
They were not forthcoming in the first half of the third quarter. Jason Johannisen flew brilliantly and kicked the opening goal of the half, before Bontempelli took outright Norm Smith Medal favouritism with a sublime snap. The Dogs were 19 points up, midway through the quarter. It was now or never for the Dees.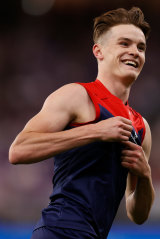 Then came quite probably the 17 greatest minutes in the history of the game's oldest club. It was unbelievable. Fritsch kicked two goals against the run of play, the second set up by magnificent work in the middle from Petracca and Oliver. Brown put through his second before Angus Brayshaw put the Dees in front. Petracca had already been immense in the preceding minutes but then came his piece de resistance: a dribbler from the pocket. Tom Sparrow and Oliver then both finished spellbindingly on the run. Melbourne led by 24 points. They had put the premiership in premiership quarter.
In a grand final that had already yielded two stunning changes of momentum, it was not beyond the realms of possibility that the Dogs could yet come back again. This was Melbourne we were talking about, after all.
But that was the old Melbourne. The Melbourne that died in Perth on September 25, 2021. There would be no further nervous moments as Brown and then Fritsch added their third and fifth goals respectively. Neal-Bullen's set shot at the eight-minute mark extended the lead to 42 points. It was 9:40pm, Melbourne was 40 minutes into its nightly curfew, but the city was about to be painted red and blue.
The dying minutes brought exultation. Petracca, performed a celebratory jumping chest bump – first with Oliver and then with the also outstanding Christian Salem. Petracca would finish with 39 disposals. There was no debate about who would win the Norm Smith Medal.
Melbourne 4.5 5.9 12.11 21.14 (140)
Western Bulldogs 1.2 7.5 9.5 10.6 (66)
BEST
Melbourne: Petracca, Fritsch, Salem, Oliver, Brayshaw, Jackson, Brown, Lever, Neal-Bullen.
Western Bulldogs: Bontempelli, Treloar, Daniel, R. Smith
VOTES
C. Petracca (Melbourne) 9 [Norm Smith Medal]B. Fritsch (Melbourne) 8
C. Salem (Melbourne) 8
C. Oliver (Melbourne) 8
M. Bontempelli (Western Bulldogs) 7
Keep up to date with the best AFL coverage in the country. Sign up for the Real Footy newsletter.