Thanks for following along.
Another week, another win for the Wallabies.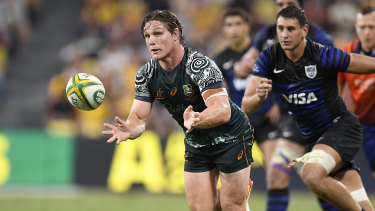 Dave Rennie wasn't thriller with the performance but a 19-point win is a 19-point win. Wallabies fans will take those no matter how polished the performance was.
We'll be back for the final Saturday of Rugby Championship matches this time next week.
See you then.
Unfortunately, not in the World Rugby rankings – yet.
But on The Rugby Championship standings, only the All Blacks lead the Wallabies.
New Zealand's win against the Springboks wrapped up the title for 2021.
For the first time in four years, the Wallabies have won three consecutive games.
It's also the first time they've won three straight games in The Rugby Championship since 2015.
Dave Rennie is building something here. That was a convincing win. The Pumas never looked likely.
This time last year, these two teams played out consecutive draws.
Argentina may have regressed since then but the Wallabies have improved just as much.
Final score, 27-8.
That should do it.
James O'Connor popped a perfect pass to Andrew Kellaway, who was hunting up off his left shoulder, and the Rebels winger powered over from close range.
That was a lovely set of phases from the Wallabies, who are playing with confidence built against the Springboks.
AUS 27-8 ARG after 71 minutes
But the damage has been done.
When Marcos Kremer tripped Reece Hodge, Argentina were working back into the game.
Now, with 13 minutes to play, his side trail 20-8 and are camped in their own 22.
Welcome back to Test rugby, James O'Connor.
The Queensland Reds star picked up where Quade Cooper left off, adding three more points to the Wallabies' tally.
The Kremer yellow card could not have come at a better time for the Wallabies. It has changed the game.
AUS 20-8 ARG after 61 minutes