In the day-to-day struggle of these times, we might strive – feign? – to all be in it together. But sport sorts us into winners and losers. It's the whole point.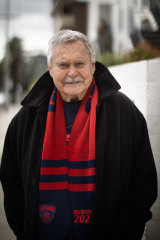 On the Monday after the 1964 grand final, winning captain Ron Barassi wrote in his own column: "It's a pity sometimes, on very special occasions, that two teams cannot win the grand final. Saturday was one of those occasions, and if ever a team deserved to win, it was Collingwood. They were a team to be proud of, a team I would have been proud to have played in."
Barassi could afford to be generous then; the Demons had won six flags in 10 years. This night, it was all about Melbourne and its rejuvenation. Barassi would have been proud to play in this team, and in this grand final. Symbolically, he did. Bayley Fritsch, wearing Barassi's sainted No.31, kicked six goals, including a pair in quick succession in the third quarter that turned this match for third and final time.
They were the first two of a run of 12 for the Demons. In all, they kicked 16 goals to one to draw down the curtain on this finale. The grand final did get its parade after all. It was the last quarter.
It came without warning. Melbourne and Petracca had dominated the first quarter, the Dogs and Bontempelli the second. A Bontempelli goal 12 minutes into the third quarter stretched the Dogs' lead to 19 points. All Melbourne's ghosts were howling then.
But this wasn't a team to be spooked. The only applicable history was this season's. The Dees have risen to every challenge, and did it again. When Petracca got on his bike again, Cadel Evans couldn't have caught him.
In Perth, it was all Melbourne. In Melbourne, for the second year in a row, it could have been the Nullarbor. The streets were empty and soundless, made even emptier and more deathly silent in daylight hours because the grand final was at night.
There was a strain of grand final fever but, like the virus, it was invisible. Although most fans only get to watch the grand final on TV anyway, its absence from among us was as gaping as a sinkhole. Come to think of it, why did we not have one of those this week?
The grand final caught the zeitgeist in that it was a disorienting occasion. After a week when left was right and right was left, picking a side was the devil's own job. Or, as it transpired, the Demons'. Even the tectonic plates suddenly decided to shift this week. If it's not too glib to say so, we all needed a jab of something affirmative. This was the shot.
The grand final, itself, was on the wrong side, the far side of the country. That means no offence to Perth, who did a magnificent job of hosting and staging.
Loading
But removing the finale across two state borders last year was strange enough. Now it was two state borders and two time zones away. The big country has never felt bigger. Perhaps that was Melbourne's secret, a trip through time. Fifty-seven years disappeared as if at the flick of a switch.
Both sides would have felt the tyranny of distance acutely last night. There's no better place to celebrate a premiership than among your own. And if you lose, among your own is the only place to be. Now there was a continent in between.
In 1964, Melbourne rejoiced with their fans in a ground floor bar in the Members Stand at the MCG, the players walking a lap of honour on the bar. They also sang a parody of the Collingwood theme song until Barassi jumped on to the bar to put a stop to it and insisted instead on a round of the true Collingwood song.
Graciousness is a timeless quality. At the final siren on Saturday night, Gawn went immediately to Bontempelli, his opposite number. He also made sure to mention the Melbourne players who missed out this day, and others who have fallen by the wayside, or have died or been treated cruelly by life. This was one team's premiership in one year, but Gawn made sure that it belonged to all.
Keep up to date with the best AFL coverage in the country. Sign up for the Real Footy newsletter.