I have received blowback for questioning curfew. People want to believe our government when they claim curfew is necessary. Last week Premier Daniel Andrews told a press conference "it works" without providing any evidence whatsoever. Andrews is unable to mainly because there is no evidence curfew is effective.
I have been told by government supporters online curfews stop "illegal parties" others are allegedly having but this argument holds no weight. A curfew is superfluous when there are already mandated limits on gatherings held indoors. Unlike a curfew, not gathering in large groups indoors makes sense from a public health perspective.
As for time limitations for outdoor activities, these also don't make sense. The locking down of apartment blocks and the fact that, like last year, workplaces continue to be a "major vector of transmission" suggests if anything, we should be spending as much time outside as possible.
As a Melburnian living in high density housing, I worry a single infection could rip through these flats and the only support we would get would be barrier tape and policing.
A recent article from MIT Medical summarises key research regarding outdoor transmission of COVID-19. It states experts believe outdoor transmissions account for as low as 1 per cent of cases, while acknowledging that the risk increases with lengthy, close interactions.
Despite rhetoric to the contrary, last year's Black Lives Matter rally was never a super-spreader event. Indeed, no protest activities held across the country in the past 12 months have been linked to super-spreader events. Given we now know two COVID positive cases attended the past weekend's anti-lockdown rallies, time will tell if those cases spread throughout the crowds.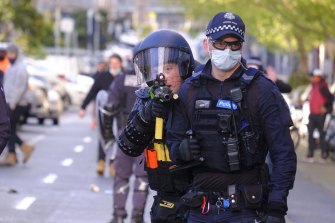 I believe strongly in necessary public health measures and am fully vaccinated. Regardless of how morally wrong I believe the messages anti-lockdown protesters were touting are though, we cannot ignore that these rallies have grown, and are becoming more diverse.
People are frustrated, disenfranchised, are looking for answers in all the wrong places, and then, when shot with projectiles by police, believe their anger at the government is all the more righteous.
Curfews and policed "outdoor time" won't fix this unrest. We need compassionate, community-geared solutions which make people feel empowered and informed. People need simple medical facts rather than threats regarding mandatory vaccination.
Loading
Approaches must work with grassroots groups ensuring the most vulnerable among us feel secure. We need ample supply of protective equipment for essential workers, and fair pay deals for mental health workers and teachers.
Instilling fear via policing the pandemic is only building mistrust and anger. After 18 long months of lockdown, after illness, injury and isolation, the COVID-normal world I want to step out into is one that truly knows we have all been in this together, not a society more divided than ever before.
Celeste Liddle is an Arrernte woman, union organiser, opinion writer and social commentator. In May 2021, she was preselected as the Greens candidate in the federal seat of Cooper.