Pengana chief executive Russel Pillemer says he did everything he could to persuade Alex Turnbull not to sell out of the investment company right before a potentially lucrative merger with another firm was completed.
Mr Pillemer told the NSW Supreme Court on Wednesday that he had spoken to former prime minister Malcolm Turnbull's son, telling him he believed the merger would be beneficial and he could "get it done".
However, Mr Pillemer said confidentiality obligations prevented him from providing Alex Turnbull with financial modelling that predicted the value of Pengana would triple after its merger with Hunter Hall.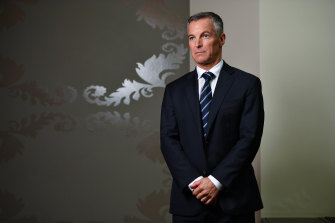 Alex Turnbull is suing Mr Pillemer for up to $12 million in damages over allegations he misled and deceived the Turnbulls into accepting cash for the repayment of a 2008 loan rather than acquiring shares.
The court heard Mr Pillemer had told Alex Turnbull he was "optimistic" about the potential for the merger but did not provide updates on communication between the parties or modelling around the impact on the stock value.
"Obviously a lot of sense to put the two businesses together, they're good in terms of diversification, synergies for the business… I think I can get this deal done," Mr Pillemer said he told Alex Turnbull in January 2017. "It's not going to be easy, but I think I can get this deal done."
Alex Turnbull's lawyer, Ian Jackman SC, had said there was "no realistic possibility" the Turnbulls would accept the cash payment if they had full access to information and pointed to a clause in the loan agreement that forced Mr Pillemer to disclose information related to a change to Pengana's value.
"Did you regard yourself as being at liberty to be able to disclose this to Alex Turnbull if you had chosen to do so?" Mr Jackman asked.
"Within Pengana I obviously have confidentiality obligations," Mr Pillemer replied. "If I'm going to disclose internal information to Pengana, outside of the organisation I should have a reason for doing so, such that it's for the benefit of the owner, and I couldn't imagine why that would be… to disclose such information to Mr Turnbull."