That's where we'll leave our live coverage of the day's developments. Thanks for joining us. Broede Carmody will be back early tomorrow to bring you updates as they happen throughout the morning.
If you're just catching up, here's a summary of what happened today:
Victoria has recorded 1438 new, locally acquired cases of COVID-19 and five deaths. The number of cases is a record for Victoria and a significant escalation from yesterday's record tally of 950 cases. The government blamed the surge in infections on illegal social gatherings and parties over the AFL grand final weekend, saying they contributed to about one-third of cases. Double-vaccinated residents who have been in an "extreme risk" zone are allowed to return to the state, and more primary schools and childcare centres have been identified as exposure sites. The state and federal governments unveiled more support for struggling businesses over the next six weeks, by which time the state is expected to have reached its target of having 80 per cent of residents aged over 16 fully vaccinated. Victoria has passed the milestone of 80 per cent of its population vaccinated with at least one dose of a COVID-19 vaccine. Premier Daniel Andrews said the interval between Pfizer vaccine doses at state-run clinics will be reduced from six weeks to three weeks from October 4. Pfizer vaccines will not be available to people aged 60 and older at state-run vaccination clinics, despite the federal government saying older people would have access to Pfizer and Moderna vaccines from Friday. Victorian healthcare workers are being told to brace for a surge in hospitalisations once Melbourne emerges from lockdown off the back of high vaccination rates.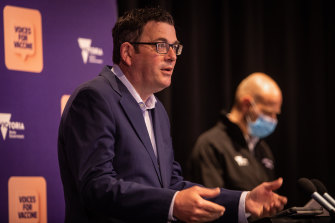 NSW has reported 941 new COVID-19 cases and six deaths as the state inches closer to 90 per cent first dose vaccination rate. NSW Premier Gladys Berejiklian says the government is considering bringing some minor freedoms due to come into effect on December 1 forward. The government will maintain its contribution to the JobSaver program until the end of November, while the federal government will withdraw its payments once the state reaches the 80 per cent vaccination target. High vaccination rates mean Sydney students will return to school a week earlier than originally expected. Those in kindergarten, years 1 and 12 can now return to school on October 18. A week later, years 2, 6 and 11 will return. Then, on November 1, all remaining grades will head back to the classroom. People in NSW aged 60 and over will now have access to the Pfizer and Moderna vaccines. Fully vaccinated people who visit pubs, restaurants and shops will no longer be identified as close contacts and forced to isolate for two weeks if exposed to COVID-19, under a proposed overhaul of the state's contact tracing methods.
Queenslanders have avoided a lockdown, but restrictions tightened in Brisbane, the Gold Coast and Townsville after the state recorded six new local cases of coronavirus on Thursday, bringing the latest outbreak to four separate clusters. Four of the cases were linked to a man in his 30s who worked at an aviation training facility, with the people likely infected at an event on September 20. Brisbane, the Gold Coast, Moreton Bay, Logan, Townsville and Palm Island will go back to stage two restrictions from 4pm on Thursday for two weeks. This Sunday's NRL grand final at Suncorp Stadium in Brisbane will go ahead, but the crowd will decrease to 75 per cent. Hundreds of people have been ordered into home quarantine.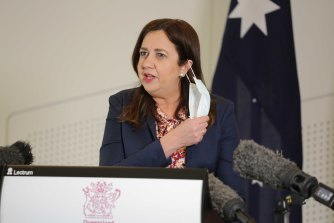 The ACT recorded 31 new cases of COVID-19, up from 22 on Wednesday. Of the new cases, 17 are linked to known outbreaks or infections. Six were in quarantine throughout their infectious period and 17 were infectious in the community. There are 10 coronavirus patients in Canberra hospitals. Chief Minister Andrew Barr wants the territory out of lockdown by the middle of next month. Restrictions will ease slightly to allow two visitors in households from Friday, prompting Mr Barr to warn against large family gatherings to prevent any potential super-spreader events.
In Western Australia, a worker died after an incident at Fortescue's Solomon Hub in the Pilbara on Thursday morning. The men who snuck into the state from Victoria to watch the AFL grand final have been locked-up until their next court appearance. One of the men has tested negative to coronavirus. However, authorities are continuing their investigations after the other man returned an inconclusive test (though it is likely to be a false positive). Both face time in jail. WA's vaccine commander says the men "knowingly put others at risk".
And in overseas news, former French president Nicolas Sarkozy has been sentenced to one year in prison, pending a potential appeal, after being found guilty of illegal campaign financing of his unsuccessful 2012 re-election bid. Vietnam will wind back the ultra-strict lockdown in its largest city on Friday, ending nearly three months of restrictions.
The Victorian government says prep to year 2 students in regional Victoria will return to full-time face-to-face learning from Monday along with students studying final year subjects.
Announcing the plan on Thursday, Education Minister James Merlino said "this is a really positive step forward in, as I say, returning to life in a COVID-normal way".
Year 11 students will be back in class from Wednesday and there'll be staggered returns for years 3 to 10 the following week.
Years 3, 4, 8 and 9 will attend school on Tuesdays and Wednesdays, and years 5, 6 and 10 will attend on Thursdays and Fridays – while year 7 will return five days a week.
From October 26, all regional students will be back in the classroom full-time.The plan doesn't cover the City of Latrobe or Mitchell Shire which are under the same lockdown restrictions as Melbourne.
Earlier this month, the state government announced year 12 students in Melbourne would return to classrooms on October 6.
From October 18, students in prep, grade 1 and grade 2 would return, but most students would be limited to attending two days a week, with timetables staggered to minimise the number of children in school at any time.
All grades will return for at least two days a week from around October 26, when the state is expected to reach its goal of having 70 per cent of the population over 16 fully vaccinated and then all grades are set to return full-time in early November when the 80 per cent fully vaccinated milestone is expected to be met.
Victoria's tram operator says services on routes 57, 58, 59, and 82 are expected to be disrupted on Friday with further impacts expected over the coming days after a driver tested positive to COVID-19.
In a statement on Thursday night, Yarra Trams said the positive case had forced a significant number of drivers based at the Essendon depot and City (Tram Hub) depot to isolate "to keep everyone safe."
It said most of those isolating are secondary contacts and will be allowed to return to work after returning a negative test.
The tram operator said it will endeavour to provide as regular a service as possible across the four most impacted routes, but a high number of service cancellations are expected.
The impacted routes are:
Route 57 – West Maribyrnong to Flinders Street Station
Route 58 – West Coburg to Toorak
Route 59 – Airport West to Flinders Street Station
Route 82 – Moonee Ponds to Footscray
Paris: Former French president Nicolas Sarkozy has been sentenced to one year in prison, pending a potential appeal, after being found guilty of illegal campaign financing of his unsuccessful 2012 re-election bid.
Sarkozy wasn't present at the Paris court for the verdict's announcement.
He is accused of having spent almost twice the maximum legal amount of €22.5 million ($36.3 million) on the re-election bid that he lost to Socialist Francois Hollande.
The court stated that Sarkozy "knew" the legal limit was at stake and "voluntarily" failed to supervise additional expenses. Prosecutors have requested a six-month prison term, as well as a six-month suspended sentence and a fine of €3750.
Sarkozy, France's president from 2007 to 2012, has vigorously denied wrongdoing during the trial in May and June. He can appeal the decision.
Read this developing story here.
AP
New regional communities in Victoria are being put on alert after COVID-19 viral fragments were detected in wastewater samples.
There has been an unexpected wastewater detection in the Ararat area, in the state's south-west, between September 26 to 28.
At Mildura, in north-west Victoria, the period of interest is the same – September 26 to 28.
There have been repeated unexpected detections in Seymour, north of Melbourne, between September 20 and 28.
In Ballarat, in the Central Highlands, the health department is keeping an eye on areas including Lake Gardens, Mitchell Park and Wendouree between September 15 and 28.
Additional unexpected detections were also found in the Ballarat suburbs of Alfredton, Cardigan and Lucas on 27 and 28 September 27 and 28.
The health department said detections could signal an undiscovered new case, or cases, or could be the result of one or more people in those areas who had recovered from COVID-19 but were still shedding the virus.
Anyone who lives in, works in or has visited the areas identified is urged to watch for the mildest of COVID-19 symptoms and get tested as soon as possible if any symptoms develop.
The detections come as 46 new cases of COVID-19 are recorded in parts of regional Victoria.
They include 12 in Mitchell, 5 in Greater Shepparton and six in Moorabool. A further four cases have also been added to Warrnambool's tally and three in both Gannawarra and Baw Baw.
Vietnam will wind back the ultra-strict lockdown in its largest city on Friday, ending nearly three months of restrictions.
People in Ho Chi Minh City, a metropolis of 10 million, will be able to leave their homes, restaurants can serve take-away meals and other essential businesses can open, the city said on its website on Thursday.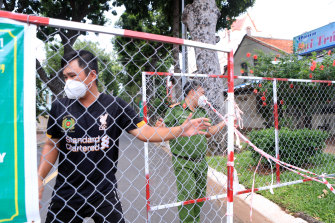 For the past four weeks, Ho Chi Minh residents were banned from leaving their homes even for food – basic supplies were delivered door-to-door by the army.
A social distancing order will still be enforced. Schools are closed, public transport remains suspended, travel in and out of the city will be controlled and public gatherings of more than 10 people outside is banned.
People who wish to attend social activities will have to show proof of vaccination to be admitted to establishments, authorities said.
Ho Chi Minh City along with 18 southern provinces went into lockdown in mid-July when cases started to surge.
In the past three months, the delta variant of the virus has infected 770,000 people and killed over 19,000.
In the past week, Vietnam's average new cases dropped by a third compared to earlier in the month when 14,000 were being recorded daily, the health ministry said.
In Vung Tau city, 70 kilometres from Ho Chi Minh city, barricades set up on the streets to control traffic during the lockdown were taken down as residents cheered.
"We will have to celebrate this day, that the city is removing the barricades so we can go out again and get back to our normal lives," resident Pham Van Thanh said as he helped officers remove a barricade on his street.
Ho Chi Minh City's health authority last week approved shortening the interval between two shots of AstraZeneca to six weeks to fully vaccinate people quickly.
The health ministry says 98.5 percent of the city's adults have been inoculated and 48 per cent of them have received both shots.
However, Vietnam's overall vaccination rate remains low with only 9.3 per cent of its 98 million people fully vaccinated. The authority said short supply is the reason for the delay of virus inoculation.
AP
The Tour Down Under cycling race, which draws international attention when it usually takes place in South Australia in January, has been dumped for the second year in a row due to the pandemic.
The event includes the men's Union Cycliste Internationale (UCI) World Tour and the women's UCI Pro Tour races.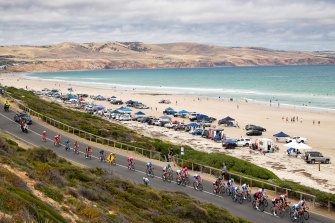 In a statement on Thursday, the event's organisers said the race would not go ahead in 2022 due to international border closures and associated quarantine requirements for visiting international teams.
"The Santos Tour Down Under is a much-loved event on the world cycling and Australian sporting calendar and an important economic driver for South Australia, attracting 44,000 people, injecting 742 jobs and more than $66 million into the economy when last held in 2020," Events South Australia executive director Hitaf Rasheed said.
"We have fully explored all avenues, but unfortunately in the end it was the border closures and quarantine requirements for more than 400 people that make up the international teams that proved to still be too difficult to overcome."
The race will be replaced by the lower-key Santos Festival of Cycling event from January 21 to 29.
South Australian Premier Steven Marshall said Adelaide in January was "all about cycling and our cycling friends from all around Australia gathering here".
"Although international major events continue to be challenging, we will celebrate cycling in January 2022 in the best way we know how and welcome visitors to Adelaide once again to kick off the new year."
A childcare and kindergarten centre in south-east Melbourne has been listed as a tier-1 site for four consecutive days as health authorities released new COVID-19 exposure sites across the city and in regional Victoria.
The health department listed the Narre Kids Early Learning and Kinder on the Princes Highway, Narre Warren, as an exposure site on September 21, 22, 23 and 24 between 9am to 4.30pm after a case attended the centre.
Another similar site, Woodlea Early Education, on Ferneley View at Aintree, in Melbourne's outer west, is listed as a tier-1 site on September 21 from 9.30am to 6pm.
An exposure time doesn't mean a COVID-19 case was at the listed premises for that entire period.
The health department allows for extra time either side of a person's visit if the location is indoors.
In regional Victoria, tier-1 sites have been listed across many parts of the state including Wodonga, Shepparton, Geelong and Kerang.
At Wodonga, the Chemist Warehouse at Wodonga Plaza is a tier-1 exposure site on September 23 from 2.30pm to 3pm.
The workshop at Geelong bus company McHarry's Buslines in Breakwater is listed as an exposure site on September 27 from 7am to 5pm after a case attended the Reeves Court premises.
At Kerang in northern Victoria, the Exchange Hotel on Wellington Street is an exposure site on September 26 from 10.40am to 1.35pm.
There are two tier-1 sites at Shepparton. They are the Victoria Hotel's gaming area on Wyndham Street on September 26 from 9pm to 11.59pm.
The town's Nido Early Learning Centre on St Georges Road has also been listed as an exposure site on September 23 from 9am to 4.45pm and September 27 from 8.50am to 5.25pm.
Anyone who has visited these locations during these times must get tested immediately and quarantine for 14 days from the exposure.
A tornado has left a path of destruction in the NSW Central West, as the Bureau of Meteorology issued severe thunderstorm warnings for much of the state.
"There are reports of damage to houses, powerlines and trees around the Clear Creek area, north north-east of Bathurst," the bureau said of the tornado on Thursday afternoon.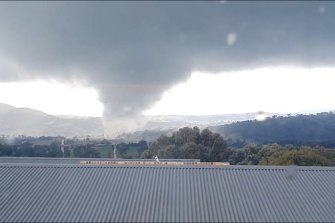 The bureau said reports of damage stretch 25 to 30 kilometres, with the path running roughly north-west.
A severe thunderstorm warning was issued at 5pm extending across the state, including Sydney, bringing destructive winds and hail.
"Severe thunderstorms are likely to produce damaging, locally destructive winds and large, possibly giant hail stones over the next several hours in parts of the Metropolitan district," the bureau said.
Read the full story here.
Fully vaccinated people who visit NSW pubs, restaurants and shops will no longer be identified as close contacts and forced to isolate for two weeks if exposed to COVID-19, under a proposed overhaul of the state's contact tracing methods.
Public health guidelines, which were last updated on September 28, shed light on options the state government is considering when dealing with COVID-19 exposures as the state begins to exit lockdown over the coming weeks.
The document, which is still subject to change, lists contact "risk assessment" protocols for offices, construction sites, hospitality venues, retail, universities, TAFE, supermarkets and warehouses.
It indicates fully vaccinated people will only be marked as casual contacts or "low risk" even if they come within close range or have direct physical contact with a case while infectious at indoor and outdoor venues. The document defines physical contact as "shaking hands, hugging or kissing".
NSW crisis cabinet is expected to review measures contained within the document when it meets on Friday to discuss how the contact tracing system will approach the reopening phase of the pandemic.
Read the full story here.